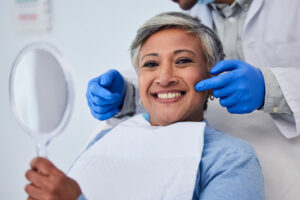 Our team offers treatment for periodontal health issues, which enables us to manage concerns like gum disease and gingivitis, helping you avoid tooth loss and other complications. In today's blog, your Syosset, NY, dentist talks about how we approach improving your smile's health and beauty, often in as little as one visit.
The Importance of Good Gum Health
Our gums frame our smile and support our teeth, keeping our smile healthy, functional, and beautiful. But if you develop inflammation, also known as gingivitis, and gum disease, this could lead to negative changes in your smile and the increased risk of tooth loss. The initial inflammation could occur due to tobacco products, poor brushing and flossing habits, infrequent dental cleanings, and diets high in sugar and starch, which promote the plaque buildup that irritates the tissues. The causes may vary, but the results are a disease that grows in severity unless managed with good oral hygiene habits.
Warning Signs of the Disease
You should contact us regarding your periodontal health if you begin to notice soreness and redness in the tissues, bleeding and recession, or swelling. These changes could indicate gingivitis or the early stages of periodontal disease and that action is needed to either reverse gingivitis or begin managing the disease to protect you from periodontitis. The advanced stage of the disease, periodontitis could lead to adult tooth loss!
Deep Cleaning And More
Our team could start with a deep cleaning. The scaling and root planing procedure can help your smile by removing all plaque and tartar from both the teeth and the roots. This is a more involved cleaning, so we will administer a local anesthesia to keep you comfortable, and the procedure could take one to two visits. We then polish your teeth afterward to make it more difficult for plaque and tartar to adhere to the surfaces before your next cleaning visit. We recommend traditional cleanings every three of our months if you have risk factors for periodontal disease. For more severe cases, we could discuss surgery to remove diseased tissues and allow healthy ones to reattach to the teeth.
If you have any questions about how we diagnose and treat issues like gum disease, or if you want tips on protecting your periodontal health and avoiding these complications, then contact our team today to learn more. Everyone deserves a healthy and whole smile, and we can help by monitoring your overall periodontal health.
Do You Have Questions About Boosting Periodontal Health?
Our team wants to help you find the right solution to your periodontal disease, so you can maintain a whole and healthy smile for years to come. To learn more about preserving your smile and avoiding tooth loss, then contact our Syosset, NY dental office today at 516-433-2211. Let's protect the health and stability of your smile!