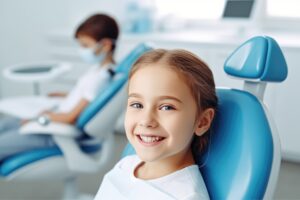 We want to help your kids enjoy good oral health, and avoid issues like tooth decay and gingivitis when possible. Which is why we offer custom treatments for little smiles of all ages. In today's blog, your Syosset, NY, dentist talks about how we protect children's smiles with preventive care and custom restorations.
Starting with a Dental Exam
If your little one hasn't seen the dentist in a while, or ever at all, then contact our team to schedule a visit. Starting at age two, kids need to have a checkup and cleaning every six months. During the dental exam, our team will take a close look at their smiles with advanced digital x-rays and imaging technology, so we can make a diagnosis with precision and accuracy. If we uncover the early signs of trouble, we can discuss treatments to protect smiles from serious tooth decay or infection. We also look for factors that indicate developing misalignment or even gingivitis. These visits also help limit the risk of dental anxiety, as kids become accustomed to seeing the dentist and gain a better understanding of the importance of routine dental care.
Preventing Cavities
Our team can provide treatment to lower the risk of cavities in your child's smile. With a fluoride treatment, we apply a special varnish during your child's checkup visit. The application takes seconds, and the material then strengthens the enamel to prevent cavities from forming. We could also apply dental sealants on the rear teeth, as kids may have difficulty reaching the molars when brushing and flossing. The sealants coat these teeth and prevent food particles from being trapped there, limiting the risk of tooth decay. They can stay in place for up to ten years in some cases! With both options, kids just need to avoid food and drink for about 30 minutes to ensure the materials properly cure.
Lifelike Dental Restorations
What if we discover a cavity, or a tooth is damaged in a dental emergency? For a cavity, we can often treat the issue in one visit with a dental filling. Our team could also cap the tooth with a dental crown, which can address more severe cavities and also repair cracked, chipped, or broken teeth too. We take steps to ensure these can blend with your child's smile, so they feel confident when they smile. Treatment is necessary even in baby teeth to avoid infection and premature tooth loss, factors that could lead to dental misalignment.
Do You Have Questions About Children's Dentistry?
We would love to help your children enjoy optimal oral health. To learn more about helping little smiles of all ages, then contact our Syosset, NY dental office today at 516-433-2211.