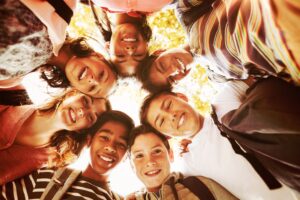 Our team is experienced in helping kids enjoy good oral health, and also enjoy their time in our office. In today's blog, your Syosset, NY, dentist talks about our approach to children's dentistry, and how we help kids stay free of issues like cavities, misalignment, or gingivitis. We want to help your children avoid poor oral health!
Starting With a Checkup
If your little one hasn't been to the dentist lately, or hasn't been at all, then give us a call. Our team is experienced in working with kids, and we know how to help them feel welcomed and relaxed when they visit the office. Their first visit will include a checkup and cleaning. The checkup portion involves taking detailed digital x-rays and intraoral camera images of the smile, so we can assess the current state of their oral health. If we find problems, then our team will create a treatment plan to help address them. For example, for a cavity we could place a lifelike filling in one visit.
Cleanings
All kids need a cleaning every six months, as this is the only way to remove all plaque and tartar buildup from their smiles. The cleaning helps lower the risks of issues like tooth decay and gingivitis, and also fights bad breath and discoloration as well. The process only takes a few minutes. We remove the buildup with an ultrasonic scaling device and a manual tool. We then polish the teeth for a brighter appearance.
Fluoride Treatments and Dental Sealants
Our team also provides preventive visits that help lower the risk of tooth decay in little smiles. This is especially important during the holiday season, when kids are inundated with sweet treats. Fluoride is applied during each checkup, and helps strengthen the protective enamel on each tooth, so cavities are less likely to form. Dental sealants are an acrylic coating we add to the rear teeth, preventing food from becoming stuck between them. For many kids, these are hard to reach when they brush and floss, so sealants help safeguard them until dexterity improves. This protective layer could stay in place for up to ten years!
If you have any questions about our preventive visits and treatments for kids, then contact our team today. There is still time to obtain a checkup and cleaning before the year ends, and before your dental insurance benefits for the year run out.
Syosset Dental Improves Smiles in Childhood
We would like to help kids of all ages enjoy good health and bright teeth. If you have questions about children's dentistry, then contact our Syosset, NY dental office today at 516-433-2211. We would love to help your kids start 2022 with a stronger and healthier smile!