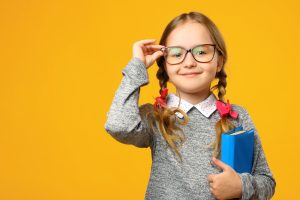 Will your child be starting school soon? If so, you're likely scrambling to pick up all the supplies and new clothes they need. But we don't want you to forget about your little one's oral health! A checkup before school starts is great for kids of all ages, and we definitely recommend one. In today's blog, your Syosset, NY, dentist talks about getting little smiles ready to return to school.
Scheduling an Exam
First, give our team a call to find a good time to set up your appointment. We will work with your schedule, and our team is still practicing health and safety measures to protect our patients from COVID-19. When you bring your child in for an appointment, our team will talk with him or her to make your little one feel relaxed and comfortable. We're experienced in working with children of all ages. The exam will involve using advanced digital x-rays and intraoral cameras to obtain clear and detailed pictures of the teeth, gums, roots, and oral structures. From there, we can create a diagnosis with precision and accuracy.
The Benefits for Your Child's Smile
A checkup is an opportunity to find any possible areas of concern in the earliest stages, and treat them before they threaten the health and stability of the smile. For example, we can uncover the earliest stages of tooth decay and gum inflammation, and also address baby teeth that have not fallen out on schedule, or permanent teeth that have become impacted. During these visits, we also have a chance to talk to your little about his or her smile, helping kids understand their oral health. Routine visits also reduce dental anxiety and make a child more likely to continue seeing the dentist in adulthood.
Starting Better Habits at Home
The start of a school year and the end of summer break means kids are back on a stricter schedule. Now is a great time to make sure your little ones are brushing and flossing properly. Kids of all ages need to brush in the morning and again at night, and should use a rice-sized bit of fluoride toothpaste. Flossing is also crucial each evening too to fight tooth decay and gum inflammation. These habits help limit plaque buildup in between checkup and cleaning visits, protecting smiles from cavities and other complications.
If you have any questions, or if you would like to schedule a visit for your child, then contact our team today.
Syosset Dental Wants to Protect Little Smiles
Our team is ready to help prepare your child's smile for a return to school. If you have questions about our approach to children's dental care, then contact our Syosset, NY dental office today at 516-433-2211. We would love the chance to improve your smile beauty.