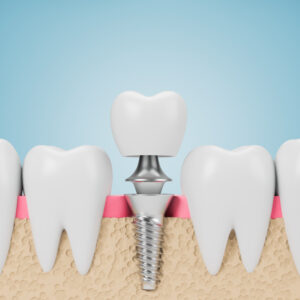 When you have lost one tooth, or possibly several, you need a replacement option to repair your smile. Our team can offer dental implants, which replace one missing tooth but could also secure a denture. In today's blog, your Syosset, NY, dentist talks about how our dental implants offer a natural appearance and function!
Securing a New Root for Your New Tooth
First, we want to conduct an examination to ensure your jaw is strong enough to support a new root. If not, we can strengthen the weakened portions of your jaw with bone grafting or even a sinus lift. We also want to identify any underlying factors that could impact your implants, and provide treatment to reverse or manage them before placement begins. Using digital technology, we will guide the implants post into the jawbone. Made from titanium, these will be biocompatible and bond with the jaw to offer root-like structure the body accepts as natural bone structure. As a result, your jawbone doesn't lose mass and density as it would initially following tooth loss, so your new teeth can last for decades to come, possibly an entire lifetime with proper care and attention.
Crowns
If we're replacing an individual missing tooth, then we will complete it with a crown. The restoration is attached to the abutment we've added to the post. The custom-made crown ensures it can fit comfortably and keep your bite balanced and strong., The material handles daily bite forces and pressures, and can also be color matched to blend with the rest of your smile. We want your new tooth to look natural and at home in your smile.
Dental Prosthetics
If you have multiple missing teeth, then we could secure several posts to support a bridge, partial, or even a full set of dentures. These will be fixed in place, so they never slip when you eat or speak, and don't need to be replaced every five to ten years. Instead, they could last for decades to come. They will look and function like natural teeth, and are easy to brush and floss. You deserve a smile that makes you feel confident, and allows you to eat your favorite foods again.
If you have any questions about how we address tooth loss with implant dentistry, then contact our team today to learn more. Whether you have one missing tooth, or have lost all of them, we can help with dental implants and custom-made prosthetics.
Do You Have Questions About Implant Dentistry?
Our team wants to offer replacement for missing teeth that look and function like natural teeth. To learn more about treating the unsightly gaps in your smile, then contact our Syosset, NY dental office today at 516-433-2211.