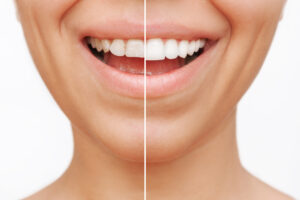 When you have more than one issue with the beauty of your smile, you may assume multiple visits and procedures are in your future. But what if we could transform your smile in only two visits, with a single cosmetic procedure? In today's blog, your Syosset, NY, dentist talks about the benefits of cosmetic porcelain veneers.
When You Need Treatment
Porcelain veneers can address a wide array of cosmetic concerns, including permanent teeth stains, the kind that don't respond to traditional teeth whitening. We can also correct misshapen or damaged teeth, address gaps between the teeth, and lengthen worn down structure as well. Placement could also correct the appearance of minor misalignment, so you obtain a straighter-looking smile without the need for braces or aligners. When you have one or more of these cosmetic concerns, then consider an appointment to find out if porcelain veneers are right for you!
Creating and Placing Your Porcelain Veneers
Each one we provide our patients will be custom-made for their smiles. There is no one-size-fits-all approach. Our team will first numb the tooth or teeth being treated. Next, we gently remove a thin layer of enamel, making room for your cosmetic restorations. Our team will take detailed digital images of the tooth from multiple angles, using the images and measurements to design and craft your completed dental restoration. When your restorations are ready, you will return to the office. We will check the fit and make any necessary adjustments before we attach them with a powerful bonding agent.
Keeping Your New Restorations Bright
With good oral hygiene habits, you can keep the tooth we've attached it to strong and stable. These same actions also help keep the restoration itself bright, and can protect your surrounding teeth too. Which is why we urge everyone to brush twice daily with a fluoride toothpaste for two minutes, and to floss every evening as well. Try to eat a healthy diet and cut back on sugary foods and drinks. Quit using tobacco products and also, try to see us for a checkup and cleaning every six months, so we can monitor your smile and also remove harmful plaque and tartar layers.
If you have any questions about how we treat your smile's cosmetic imperfections with one or more porcelain veneers, then contact our team today to learn more. We want to help you enjoy your best possible smile, one that looks great and inspires confidence.
Do You Have Questions About Boosting Smile Beauty?
We would love the opportunity to help you enjoy your best looking smile with our treatment options. To learn more about our custom dental restorations like porcelain veneers, then contact our Syosset, NY dental office today at 516-433-2211.