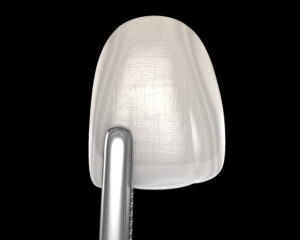 When you have multiple issues with the appearance of your smile, you may assume we can only help with multiple procedures. But with porcelain veneers, we can use natural looking restorations to make multiple improvements with your smile's beauty, often in only two visits. In today's blog, your Syosset, NY, dentist explains what makes porcelain veneers so lifelike.
Creating Custom Restorations
Each one is custom-made for your smile, which means they not only look great, but they fit comfortably and also keep your bite balanced and even. To begin, we will numb the tooth and gently remove a thin layer from the outside of it. We then take detailed digital images from multiple angles, which we combine to create a 3D impression with precision. This enables us to design and craft your veneers in a lab setting. Each one is very thin and made from porcelain. This material is very durable, and can be color matched to blend with the smile seamlessly.
Placement and Care
When the restoration is ready, you will return to the office so we can check the fit and make any necessary last-minute adjustments. When the veneer is ready, we will attach it to the front facing side of the tooth with a powerful bonding agent. The restoration will then instantly alter the shape and color of the tooth. To keep them bright and safeguard the teeth we've attached them to, you need to brush and floss daily, eat a healthier diet, and see used for checkups and cleanings every six months. These actions protect your natural teeth and help your new restorations maintain their beauty.
Cosmetic Potential
Our team could place them to mask permanent teeth stains, the kind that forms beneath the enamel and that could be difficult to remove with traditional teeth whitening. We can also correct the appearance of minor misalignment too, providing an alternative to braces or aligners. Placement could also repair minor chips and cracks, and correct misshapen teeth too. We've even used them to fill unsightly gaps between the teeth. We could whiten the teeth beforehand to ensure they match your brightest smile, and could reserve veneers for the front facing teeth whitening, and bonding and contouring address the side and rear ones, providing a cost-effective smile makeover.
If you have any questions about our cosmetic treatments, or if you would like to schedule a visit soon and use your remaining 2022 dental benefits, then contact our team today to learn more.
Do You Have Questions About Our Cosmetic Restorations?
We're ready to help you enjoy optimal oral health and a smile that inspires confidence. If you have questions about our cosmetic treatment options, then contact our Syosset, NY dental office today at 516-433-2211.