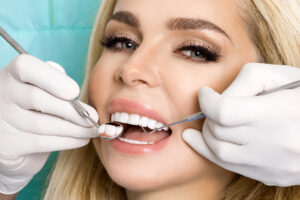 If you have multiple issues with the appearance of your smile, including problems that cannot be treated with teeth whitening alone, you may need a cosmetic treatment that can address all of them at once. With custom porcelain veneers, we can offer just that! In today's blog, your Syosset, NY, dentist offers porcelain veneers.
Your Cosmetic Consultation and Treatment Plan
First, we would like to sit down with you and discuss your smile, from your oral hygiene habits to your concerns with the beauty of your smile. We then carefully examine the teeth, gums, and oral structure with advanced imaging systems, such as digital x-rays and intraoral cameras. We can assess the cause and extent of your cosmetic problems, and then create a treatment plan to address them. For those with only stained teeth, we could recommend whitening. But if you also have issues with the shape of the teeth, veneers could transform your smile.
Crafting Custom Veneers
Each one is custom-made for your smile, and the process starts with the dentist administering a local anesthetic and then removing a thin layer of enamel from the outside of the tooth. Removing the layer helps make room for the new restoration. Detailed digital images are taken from the prepared tooth, and used to create a computer impression, one that allows us to design and craft the finished product from porcelain. We use porcelain because not only is the material strong and durable, but it is also translucent like outer enamel, and we color-match it to blend with the rest of your smile.
Transforming Your Smile's Beauty
When the veneer is ready, we will attach it to the front facing side of the tooth with a powerful bonding agent. The restoration can stay in place for many years with proper care and attention. Since the veneer covers the front and sides of the tooth, it can instantly repair minor chips and cracks, lengthen worn down teeth, and reshape malformed ones as well. Our team can also use them to mask serious discoloration, the kind that won't respond to teeth whitening. Placement could also close embarrassing gaps between teeth, or even correct the appearance of minor misalignment, so you avoid the need for braces or aligners.
If you have any questions about how we transform the overall beauty of your smile in only two visits with one or more cosmetic restorations, then contact our team today! We would love to make you feel proud of your smile once again.
Do You Have Questions About Cosmetic Dentistry?
We would like to tackle your cosmetic concerns and transform your smile in only two visits. If you have questions about our lifelike and custom dental restorations, then contact our Syosset, NY dental office today at 516-433-2211.