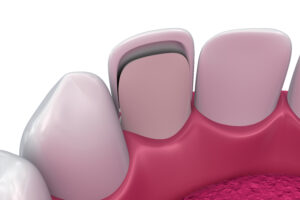 We want to not only brighten your smile, but also address issues with alignment, gaps, and the shape of the tooth too. To do so in only two visits, your Syosset, NY, dentist could offer a total smile transformation with our porcelain veneers, which instantly alter the shape and color of your teeth.
The Porcelain Veneers
What are porcelain veneers? These are restorations made from porcelain, but unlike crowns they're very thin and cover the front and sides of the teeth. They have a purely cosmetic function, but can instantly correct multiple issues with the shape and color of each tooth. Each one is custom-made for your smile and once in place, they could mask permanent dental discoloration, repair minor chips and cracks, and reshape malformed teeth too. We also close gaps between the teeth, and lengthen worn down ones. All in as little as two visits!
Creating and Placing Them
The process begins with a visit to the office. We will administer a numbing agent to the tooth or teeth receiving them, and then gently remove a thin layer of outer enamel. Once we do, detailed images and impressions will be taken with digital scanning technology. We use these to design and create and restorations in a lab setting. The porcelain material is not only able to absorb daily bite forces and pressure, but can be shaded to blend with your smile. We attach them in a second visit, connecting them to your teeth with a powerful bonding agent. They could last for decades to come, as routine care helps them stay bright and protects the teeth we've attached them to from issues like decay, infection, and periodontal disease.
Instant Orthodontics
Did you know that they also offer instant orthodontics too? We have placed them to correct the appearance of minor misalignment. Meaning you can obtain an even smile without using braces or aligners, instead the process could just take two visits. If you want to know if this is right for your smile, then simply schedule a consultation. Our team will examine your smile and assess the cause of your cosmetic issues. If you benefit from these custom restorations, we will move forward with the process!
If you have any questions about how we address uneven smiles and mask common cosmetic issues, then contact our team today. We would love to help you transform the beauty of your smile in 2022, so you never hesitate to smile or laugh!
Syosset Dental Wants to Correct Your Smile's Blemishes
We want to help you enjoy a smile makeover with our cosmetic dental restorations. If you have questions about how we offer a custom approach to cosmetic dentistry, then contact our Syosset, NY dental office today at 516-433-2211.