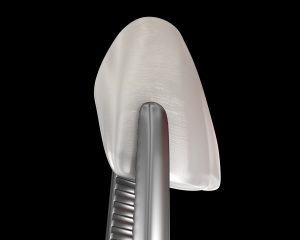 When we see a smile that has several issues with the shape and color, or with gaps and misalignment, we could often use a single procedure to offer improvement. In today's blog, your Syosset, NY, dentist will discuss how we use porcelain veneers to offer natural looking smile improvement in only two visits.
The Lifelike Esthetics of Porcelain
Porcelain is often used in dental restorations like crowns, inlays, and onlays, as well as bridges and dental implant restorations. The material is very strong and able to absorb the daily bite forces expected of natural teeth. In addition, the material is translucent like enamel, and can be shaded to blend with the rest of the smile seamlessly. Due to the strength and stain-resistant and lifelike properties, these make a great choice for restoring a smile, whether to treat a cavity or to improve cosmetic issues!
Crafting Your Restorations
Since every smile is unique, we will custom-make each restoration we place. For those receiving veneers, this means we administer a numbing agent and gently remove a thin layer of enamel from the teeth. Afterward, we take detailed images and measurements using digital scanning technology. The images then let our team design and craft the finished products in a lab setting. When your porcelain veneers are ready, you return to the office so we can check the fit and then attach them to your teeth with a powerful bonding agent. Routine care, such as daily brushing and flossing and six-month visits for checkups and cleanings, could keep them bright for years to come.
The Benefits for Your Smile
What cosmetic improvements can you expect from one or more of these restorations? Well, we can place them to repair minor chips and cracks, and also lengthen teeth worn down by bruxism. Placement could also correct misshapen teeth, and even mask permanent teeth stains, the kind that may not respond to most teeth whitening procedures. We could fill gaps and black triangle spaces between your teeth too! For those with minor misalignment, placement corrects the appearance of the smile, so they appear straighter without the need for braces or aligners. For some, this means a complete smile makeover in as little as two visits.
If you have any questions about how we treat cosmetic issues with our custom porcelain veneers, or if you would like a cosmetic consultation to see if they're right for you, then contact our team today to learn more.
Syosset Dental Offers Cosmetic Restorations
We would like to help you enjoy a stunning new smile. If you have questions about how we treat cosmetic issues with a restoration, then contact our Syosset, NY dental office today at 516-433-2211. Our team is ready to provide a personalized and custom approach to improving the beauty of your smile.