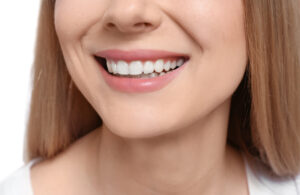 Cosmetic dentistry means more than just whitening teeth or reshaping them. Instead, we can also address issues with symmetry in your gum line. With gum contouring, your Syosset, NY, dentist can employ advanced laser dentistry to transform the beauty of your smile and remove excess tissues too.
When You Need Treatment
We could prescribe this option for people with gummy smiles, in which they display too much gingival tissue when they smile. This could alter the appearance of your smile, and even make teeth appear small or uneven. This could mean embarrassment in social situations, or even hiding your smile in pictures. Instead of hiding your smile from the world, why not undergo a single-visit cosmetic treatment to make a huge difference in your appearance? This is exactly what gum contouring offers!
The Contouring Procedure
The procedure is a quick and comfortable one, and rarely requires the use of any dental anesthesia. Instead, we will gently mark the areas of the gums that need to removed or reshaped, and then we will do so with a dental laser. The concentrated beam of light is calibrated to handle soft tissues with ease, and enables our team to carefully remove excess tissues with precision, and reshape the gum line for improved symmetry and beauty. The procedure takes one visit, and most people return to normal routines after only a day of rest.
The laser prevents damage to healthy tissues, and also prevents swelling, bleeding, and infection too. The technology also destroys harmful oral bacteria in the process, which helps improve your overall periodontal health in the process, in addition to offering a more attractive smile.
Other Uses for Dental Lasers
Laser dentistry can also offer care in other areas of your smile. The ability to destroy harmful oral bacteria means they can be helpful when treating tooth decay and periodontal disease. In fact, we can trim away diseased tissues to help manage periodontal disease and prevent complications like tooth loss. If you have any questions about how we implement advanced laser technology for cosmetic and periodontal treatments, or if you would like to schedule a visit to see if this is right for you, then please contact our team today to learn more. We always look forward to helping our patients obtain a smile that looks great and fills them with renewed self-confidence.
Do You Have Questions About Gum Contouring?
A beautiful smile can improve your self-confidence, and we're ready to help with our advanced treatment selections. Our team also offers an array of cosmetic treatments, from teeth whitening and dental bonding to clear aligners and even porcine veneers. To learn more about cosmetic treatment options, then contact our Syosset, NY dental office today at 516-433-2211.