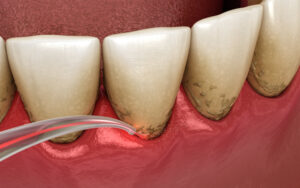 Cosmetic dentistry doesn't just mean removing teeth stains or reshaping teeth with bonding or veneers. Our team can also address esthetic concerns with your gums, such as a gummy smile. In today's blog, your Syosset, NY, dentist talks about improving the beauty and symmetry of your gum line with gum contouring.
When Smiles Need Cosmetic Treatment
A gummy smile essentially means that you display too much periodontal tissue when you smile. This could make you feel self-conscious, and even cause your teeth to appear short or uneven. You could also have issues with the gum line that negatively impact overall smile esthetics. If this is the case, you should contact our team to schedule a consultation. We will carefully examine the smile with digital technology to assess the cause and extent of your cosmetic concern, and then create a treatment plan to offer stunning results!
The Contouring Process
With gum contouring, we use a specially calibrated diode laser designed to address soft tissue concerns. We will mark the areas that need to be removed, and then use the laser to gently trim away excess tissues and reshape the gum line. In the process, this destroys harmful bacteria and also prevents damage to healthy tissues. The risk of bleeding, infection, and swelling is reduced greatly, and you rarely need to use any anesthesia either. The procedure is a comfortable one, and most people return to normal activities after only a day of rest.
Addressing Periodontal Disease
Our team could also employ laser technology to address periodontal concerns as well. If you have a more severe stage of periodontal disease, we could use the laser to remove diseased tissues and allow healthy ones to adhere to the teeth, reducing the depth of periodontal pockets and improving the health and function of your smile. Afterward, we can use dental cleanings every three to four months to manage the disease and protect your smile from uncomfortable symptoms or the loss of your natural teeth.
If you have any questions about addressing aesthetic issues with your smile, or about treating periodontal disease, then contact our team today to learn more or schedule a visit. Now is a great time to see our team because you can use your 2022 dental insurance benefits before they expire at the end of the year. We can also administer treatment before the hectic holiday season compares your schedule.
Do You Have Questions About Cosmetic Dentistry?
We would like to help you smile with confidence by addressing your cosmetic concerns. If you have questions about improving the beauty of your smile with our cosmetic treatment options, then contact our Syosset, NY dental office today at 516-433-2211.