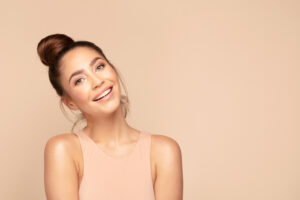 Our cosmetic procedures aren't just focused on the shape and color of your teeth. We also have a unique treatment to sculpt the gums and address common esthetic issues, such as a gummy smile. In today's blog, your Syosset, NY, dentist talks about how we perfect your smile with advanced laser technology in our gum contouring procedure.
The Impact of Your "Gummy Smile"
When you have a smile that displays too much gingival tissue, this could make you feel self-conscious about your smile. Your teeth could also appear small or uneven too. For others, swelling and redness could be an indicator of gingivitis or possibly the early stages of periodontal disease. When you experience these esthetic issues or discomfort in your gums, then let us know right away.
Planning Your Treatment
First, we will carefully examine your smile with advanced imaging technology. Once we assess the factors behind your gingival issues, we will plan your treatment. If you benefit from contouring, we will gently mark the gums. We then commence treatment using a special diode laser, once calibrated specifically for your periodontal tissues.
The Contouring Process
Using the laser, our team will gently sculpt and mold the gum line, removing excess tissues with precision and accuracy. The use of a laser instead of a scalpel means we don't damage healthy tissues, and there is often little bleeding or discomfort. In fact, you probably won't even need anesthesia! The laser is quiet, and treatment also doesn't require sutures. Instead, the area will heal quickly on its own, and you also have a reduced risk of infection or swelling afterward.
What Happens Next?
Following your treatment, you will need to rest for the day. In most cases, you can return to normal activities the very next day. We will give your exact instructions for the first day or two, which may mean eating soft foods and taking it easy. The procedure only takes one visit, and lets you smile with confidence! If you have gum disease, the procedure could be used to remove diseased tissues and reduce the depth of periodontal pockets as healthy tissues adhere to the teeth. You can then manage the issue with routine cleanings every three to four months, protecting your smile from the advanced stage of the disease linked to tooth loss. If you have any questions about how we treat the cosmetic imperfections in your smile with advanced laser technology, then contact our team today.
Syosset Dental Provides Stunning Smiles
We're ready to sculpt and transform your smile, and use the latest laser technology to do so. If you have questions about how we approach your personalized cosmetic treatment, then contact our Syosset, NY dental office today at 516-433-2211.