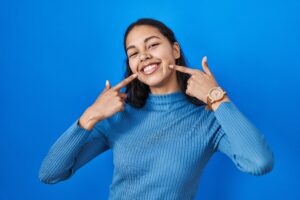 Did you know that we can often address multiple cosmetic issues in only one visit? Dental bonding can transform the shape and color of your teeth in a single appointment In today's blog, your Syosset, NY, dentist discusses the benefits of dental bonding and contouring. We can tailor our treatment approach to make sure you have the results you are eager to share with the world. We can also offer guidance and alternative suggestions in the event that another approach to cosmetic dentistry is more appropriate for your aims.
When Teeth Need Dental Bonding
Dental bonding is a service that can address a range of minor imperfections capable of hurting your smile. Chips and cracks that occur in time due to injury, teeth grinding, or natural wear and tear can age you prematurely and create conspicuous flaws. Through bonding services, we can hide these issues and make you more comfortable with your appearance. Bonding can also address forms of discoloration that are difficult to address through teeth whitening treatment.
Applying the Composite Resin
Composite resin is a biocompatible substance that is used for dental fillings as well as cosmetic dental work. Its biocompatible quality effectively means that the substance will naturally bond to your enamel to create a lasting hold and a natural look. Your dentist will apply a conservative amount of the material as needed to give teeth the appropriate changes. This means smoothing out chips and cracks, hiding gaps or overlaps, and covering any blemishes. After it is administered, it will harden. That hardening process gives you lasting results while keeping changes to your tooth structure minimal!
For many people, the application and hardening processes can fit into just a single appointment. As a result, this is a service that can take remarkably little time, making it a convenient means of seeing real improvements.
Dental Contouring And Your Treatment Goals
Dental bonding is a conservative choice for cosmetic dentistry, one that produces exciting results while only requiring minimal changes to your tooth structure. What you can find is that by combining bonding treatment plans with contouring services, we can make even greater changes to your smile while still limiting the overall work that you need. Dental contouring will see your dentist carefully remove excess enamel in order to make a tooth more symmetrical and attractive. It can also help to hide any minor chips and cracks that concern you. Like dental bonding work, this is something that can often be fit into just one appointment.
Do You Have Questions About Cosmetic Dentistry?
Our team wants to make sure you feel good about your smile, and that you enjoy good oral health too. To learn more about our cosmetic treatment options, then contact our Syosset, NY dental office today at 516-433-2211.