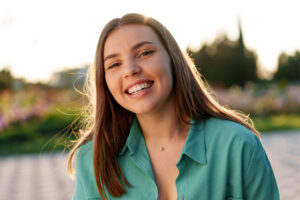 Last week, we discussed how teeth whitening can brighten smiles by several shades. But we can also employ cosmetic treatment to address issues with the shape of a tooth too! In today's blog, your Syosset, NY, dentist talks about how we can use bonding and contouring to improve smile beauty in only one sitting.
Starting With a Cosmetic Consultation
First, we want to sit down with you and discuss your smile. We would like to learn more about your oral health habits, and what goals you have for your smile. Our team will then examine your teeth, gums, and oral structures with advanced digital x-rays and intraoral cameras, so we can assess the cause and extent of your esthetic issues. A treatment plan is then created that will be tailored for your smile. In many cases, we can use two treatments that offer major results in only one visit.
Dental Bonding and Contouring
The dental bonding procedure uses the same composite resin our tooth-colored fillings do. This material is metal-free and safe for all ages. The procedure involves first administering a local numbing agent and then removing any decay and cleaning the tooth. We then etch the outer surface. The composite resin material can be shaded to blend with your tooth, and will be applied in several layers. Our team then molds and sculpts the tooth as the material cures beneath a special light. Finally, we polish the tooth for a brighter appearance!
With contouring, we don't add new material to the tooth. Instead, we gently sand and buff away outer structure to reshape the tooth and address minor esthetic issues.
The Results
With dental bonding, our team can mask permanent teeth stains that otherwise don't respond to teeth whitening. Our team can also reshape malformed teeth and repair minor chips and cracks. The procedure can lengthen the teeth worn down by teeth grinding, and can close unsightly gaps between the teeth too. The contouring procedure enables us to smooth out rough patches, pits, and grooves in the outer structure. We can also reshape malformed or overly large teeth, and dull sharp, pointed, or jagged portions of tooth structure. For a smile makeover, we could even combine them with teeth whitening and porcelain veneers.
If you have any questions about cosmetic dentistry, or about how we transform the health and beauty of your smile, then contact our team today. We want you to smile with confidence again!
Do You Have Questions About Improving Smiles?
We would love to help you smile with confidence by correcting issues with your smile's appearance. If you have questions about improving the overall appearance of your smile, then contact our Syosset, NY dental office today at 516-433-2211.