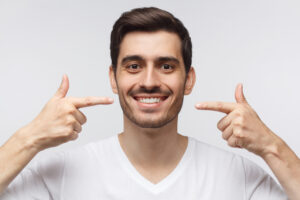 In our previous blog, we looked at how professional teeth whitening could brighten teeth by up to eight shades. But what about other cosmetic issues, like problems with the shape of the teeth or unsightly gaps between them? With dental bonding and contouring, your Syosset, NY, dentist could offer treatment for multiple cosmetic issues in only one visit!
The Initial Consultation
We begin with an initial consultation, in which we talk to you about your oral health habits and your issues with your smile, as well as your hopes for cosmetic treatment. Next, our team will conduct a detailed examination to assess the cause and extent of your esthetic issues. From there, a personalized treatment plan is created that corrects these concerns and offers a more attractive smile. Each smile is different, and may use one or more cosmetic treatments as part of your plan, which could include dental bonding and contouring.
Dental Bonding
The dental bonding process involves correcting multiple esthetic issues in one visit using composite resin. This is the same metal-free restorative material we use for our tooth-colored fillings. The material is safe for all ages, and we can color-matched it to blend with the rest of your tooth structure. Placement is simple. We administer a local anesthetic and then gently remove any decay and etch the surfaces of the tooth. We apply the composite resin to the tooth and we cure it under a light, we sculpt and mold to the tooth. Finally, we polish the tooth for a brighter appearance.
The procedure could be used to mask the permanent teeth stains that may not round to traditional whitening methods. We could also repair minor chips and cracks, and length worn down teeth as well. We've used the treatment to help correct misshapen teeth, and even close embarrassing gaps between the teeth too!
Dental Contouring
The contouring procedure could be done in one visit, often the same as your bonding one. We take a different approach with this option. We don't need to add new materials to the tooth. Instead, we will gently and carefully sand and buff away outer structure to reshape the tooth and correct esthetic issues. For example, we could improve the shape of the tooth, correcting misshapen, overly large, or even sharp, jagged, or pointed teeth. We can also smooth out pits and grooves in the tooth, correct rough patches, and even address very minor chips as well. If you have any questions about either of these cosmetic dental care options, then contact our team today.
Ready for Smile Improvement?
We know the importance of an attractive smile, and want to help with our cosmetic treatment options. If you have questions about our approach to cosmetic dentistry, then contact our Syosset, NY dental office today at 516-433-2211.