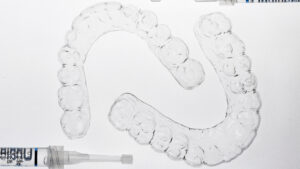 When you have stains on your teeth, you should take action to brighten your smile! Don't just rely on store bought strips and toothpastes, instead talk to our team about one of our two professional treatment options. In today's blog, your Syosset, NY, dentist talks about our professional teeth whitening services.
The Factors Behind Stained Teeth
Our teeth could develop unsightly yellow or brown stains for a number of different reasons. For example, when we drink beverages with dark pigments, such as coffee, tea, soda, and red wine, this could discolor your smile. Likewise, foods high in sugar and starch could promote plaque buildup that makes discoloration more visible. Lack or daily brushing and flossing could lead to plaque buildup as well. If you smoke cigarettes or use other tobacco products, this could discolor your smile as well. As part of your teeth whitening treatment, we will assess the cause and severity of your stains, so we can move forward with treatment.
In-Office Teeth Treatment
Our in-office teeth whitening treatment is excellent if you need results quickly, such as in time for a job interview, graduation, or date. When you arrive, we will apply a protective coating to your lips and gums, and then add the bleaching gel to your teeth. Using a special light, we will activate the bleaching ingredients to begin breaking up and removing stains, with results possible in as little as two hours total. For some, teeth could be several shades brighter!
At-Home Plastic Trays
We also have an at-home teeth whitening option that could brighten teeth by up to eight shades in some cases. You first come to the office so we can take impressions of your bite and create a custom set of plastic trays. We then send you home with the trays and several plastic syringes of bleaching gel. At home, you will fill the trays with the gel and wear them for a set amount of time each day, with optimal results possible in about a week to ten days on average. The trays can be kept, along with the remaining gel, for touches as needed in the months to come.
We can also help you keep your smile bright with six-month dental cleanings and instructions for proper brushing and flossing. If you have any questions about professional teeth whitening, or about any of our other cosmetic treatment options, such as veneers or dental bonding, then contact our team today to learn more.
Do You Have Questions About Teeth Whitening?
Our team is ready to remove your unsightly teeth stains, often in one visit. If you have questions about our cosmetic treatment options, then contact our Syosset, NY dental office today at 516-433-2211.