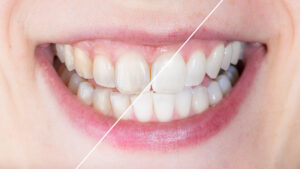 When you have teeth stains, these could make you feel a bit self-conscious about your smile. Fortunately, you don't have to rely on store bought options for minor results and sensitive teeth. Instead, your Syosset, NY, dentist could offer in-office or at-home professional teeth whitening to brighten your smile by several shades.
The In-Office Approach
The in-office teeth whitening system offers amazing results in a single visit, usually in as little as two hours. Our team will place a protective covering over your lips and gums, and then apply a bleaching gel. We activate the gel with a special light, and it begins to break up and remove the stains. For some, teeth could be several shades brighter. This is a great option if you need results fast, such as before a big meeting or a first date.
Brightening Smiles from Home
We also have an option that can address more severe discoloration, while also preventing tooth sensitivity. To begin, you will stop by the office so our team can create a custom set of plastic trays based in digital images of your smile. We then send these trays home with you, along with syringes filled with a bleaching gel. When you arrive home, you will fill the syringes with the gel and wear them for the amount of time the dentist recommends, usually between 30 and 45 minutes a day. The trays ensure the results are even across your smile, and that saliva never dilutes the gel. The entire process takes about one to two weeks, and for some there could be eight shades brighter. The trays are then yours, along with the leftover bleaching gel, and you can perform touchups down the road.
Masking Intrinsic Discoloration
For some, teeth stains don't form on the surfaces due to our diet or infrequent oral hygiene habits. Instead, injury, medication, or fluorosis could cause them to form beneath the enamel. Teeth whitening could be unable to reach them. But we can still brighten your smile! In one visit, we could apply dental bonding, the same composite resin we use as part of our tooth-colored fillings. In two visits, we could attach custom-made porcelain veneers, thin restorations that look lifelike. These could address several issues with your smile's appearance.
If you have any questions about cosmetic dentistry, or about how we brighten teeth with our teeth whitening treatment options, then contact our team today to learn more.
Do You Have Questions About Cosmetic Dentistry?
Our team wants to help remove or mask your teeth stains with a professional treatment option. If you have questions about our custom cosmetic treatment options, including porcelain veneers, then contact our Syosset, NY dental office today at 516-433-2211.