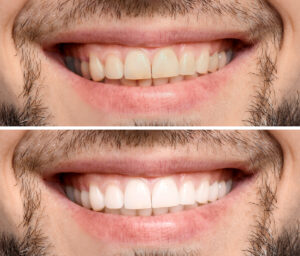 Do you have discoloration on your smile? You can opt for store-bought solutions, but you may find the results are minor, short lived, and could cause tooth sensitivity. For dramatic results that last for months, we can use professional teeth whitening. In today's blog, your Syosset, NY, dentist talks about our cosmetic treatment options.
Addressing Your Teeth Stains
Do you have stained teeth? If so, then schedule an appointment so we can examine your smile. We will identify the factors behind the discoloration, and assess the severity of your staining. From there, we can choose the most appropriate treatment option. For stains that form on the surface, known as extrinsic, we can use the professional whitening options we describe below, which offer far more dramatic results than over-the-counter solutions. If you have discoloration that forms beneath the enamel, known as intrinsic staining, these may not respond to most whitening methods, but we can brighten your smile by masking them with dental bonding or porcelain veneers.
In-Office Teeth Whitening
Our in-office option offers results in only one visit, so you leave after one to two hours with a smile up to eight shades brighter. This is great if you need results quickly before a big event. The process involves putting a protective covering on the lips and gums, and then applying a bleaching gel on the teeth. A special light then activates the gel, which breaks up and removes discoloration.
Removing Teeth Stains from Home
We also have an option that you can use from home. Our trays and gel not only tackle more severe stains, but they limit tooth sensitivity afterward, and offer stunning results in as little as one to two weeks. First, you visit our office so we can take detailed digital images of your smile and use them to create a set of plastic trays. You bring these trays, along with a bleaching gel, home with you. At home, you will fill the trays with gel and wear them for about 30 to 45 minutes a day, or possibly overnight, depending on our recommendation. This begins to brighten the smile. The trays help ensure even results, and prevent the gel from being diluted by saliva.
You can of course keep the trays and any leftover gel for touchups down the road. If you have any questions about teeth whitening, then contact our team today to learn more. We want you to always feel proud to smile!
Make a Cosmetic Appointment Today
We would like to help you enjoy a bright and beautiful smile with cosmetic dentistry. If you have questions about our cosmetic treatment options, then contact our Syosset, NY dental office today at 516-433-2211. We can also use options like bonding and veneers to reshape malformed teeth or even repair minor damage.