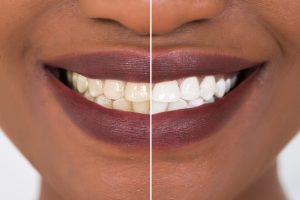 You don't have to rely on store bought strips or toothpastes to obtain a brighter smile. In our office, we could offer one of two professional systems to remove stains. Even if you have permanent teeth stains, we could still provide cosmetic options to mask them. In today's blog, your Syosset, NY, dentist talks about teeth whitening.
The Downsides of Over-The-Counter Whitening
You can easily pick up products that offer teeth whitening at the pharmacy or a big box store. However, strips, toothpastes, and rinses don't offer the same dramatic results, and the results they offer won't last very long. In addition, the strips have been linked to tooth sensitivity. For optimal results, and for whitening that could last for months, you should talk to our team about a professional option.
In-Office Smile Improvement
With our in-office option, we provide stunning results in one to two hours. To begin, we will apply a protective covering the lips and gums, and then place a powerful bleaching gel on the teeth. The gel will then break up the stains once we expose it to a special light. If you need results quickly this is the best option for you.
Whitening Teeth at Home
We also have an option you can use at home. You stop by the office so we can create a set of custom plastic trays. You then take the trays home with you, along with the bleaching gel. The trays will be filled with gel and worn for about 30 to 45 minutes a day, or overnight in some cases. Over a period of one to two weeks, the trays and gel will break up more severe stains, and offer treatment with a limited risk of sensitivity. The trays ensure even results too, and you can keep them and the remaining gel for touch ups as needed in the months to come.
Mask Discoloration
If you have permanent teeth stains, also known as intrinsic discoloration, then this could mean that our traditional whitening procedures may not be enough! Instead, we could mask them instantly with dental bonding, porcelain veneers, or a combination of the two. Whether you have minor surface stains or severe intrinsic discoloration, we can help you achieve a brighter smile, and often in a single sitting. If you have any questions about how we approach the teeth whitening process, or if you would like to schedule a cosmetic consultation, then contact our team to learn more.
Syosset Dental Offers Professional Cosmetic Treatments
We want to offer stunning and dramatic results for our patients. If you have questions about our options for removing (or making) dental discoloration, or about any of our other cosmetic treatments, then contact our Syosset, NY dental office today at 516-433-2211.