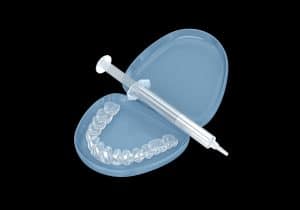 Over time, various factors could lead to stained teeth, such as our food and drink choices, or lack of proper oral hygiene. To remove these stains and brighten your smile, your Syosset, NY, dentist may suggest a professional approach. With professional cosmetic treatments that can be completed in one visit, or from home, we can often brighten smiles by several shades.
The Downsides of a Store-Bought Approach
You can find plenty of options at the store to offer a brighter smile, including whitening strips, toothpastes, or rinses. However, there are some downsides to these options. For example, strips have been linked to tooth sensitivity, and toothpastes that whiten may also contain abrasive agents that could potentially damage outer enamel. The results could also be minor at best, and definitely won't last as long as professional treatment options. For teeth whitening selections offering long lasting results that brighten teeth by several shades, and limit tooth sensitivity as well, you should talk to our team.
In-Office Whitening
First, let's talk about our office-based option. With this selection, we offer results in as little as one to two hours. We begin with the placement of a protective covering on your lips and gums, before applying the bleaching gel to the surfaces of your teeth. Activating the gel with a light, we begin the process of breaking up stains. In only one visit, you have a noticeably brighter smile!
Obtaining a Brighter Smile from Home
For more severe stains, or those prone to tooth sensitivity, we may suggest our at-home option. During a brief office visit, we will take detailed impressions to create a custom set of trays. We send you home with these trays, and a bleaching gel as well. At home, the trays will be filled with gel and worn for about 30 to 45 minutes a day, over the course of a week to ten days. The trays prevent saliva from diluting the gel, and ensure even results as well. Following your treatment, the trays and any leftover gel could then be used for touchups months down the road. In addition, routine care with daily brushing and flossing, and regular six-month visits for checkups and cleanings, could help your smile stay brighter for longer periods. If you have any questions about how we whiten your smile and remove discoloration, then contact our team. We would love to schedule a consultation and help you find the right path toward a more attractive smile.
Do You Have Questions About Teeth Whitening?
Our team understands how an attractive smile could be a major confidence boost, which is why the team at Syosset Dental in Syosset, NY offers professional teeth whitening. Contact our office at (516) 433-2211 to schedule your appointment today.