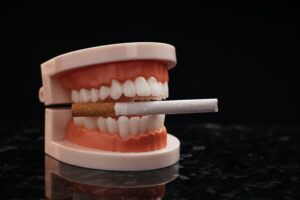 When was the last time that you underwent an oral cancer screening? We urge you to have one every year, as the chances of a recovery increase with an early diagnosis. In today's blog, your Syosset, NY, dentist talks about how we conduct a detailed oral cancer screening with precision and accuracy.
The Warning Signs of Oral Cancer
What are the common indicators of oral cancer? You should consider scheduling an appointment if you experience hoarseness, sore throat, or changes in your voice that last for more than a week. Earaches, sudden weight loss, and changes in your bite are also common symptoms. You may also encounter sores or lesions, or rough patches or areas of red and white splotches in your mouth. When this happens, be sure to let us know right away. While the disease can impact anyone, people with particularly high risk factors include those who use tobacco products and drink alcohol excessively. Excessive UV light exposure is a common factor, as is a family history of the disease. Your age is a factor too, as older adults are more at risk.
Screening with Advanced Technology
According to the Oral Cancer Foundation, of the estimated 53,000 people who will be diagnosed this year, half will succumb to the disease in a period of just five years. The main cause of this high mortality rate is the fact that the disease is rarely caught in the early stages. Which is why experts recommend a routine screening at least once a year. Our team will take a close look at your smile using advanced VELscope technology, so we can easily identify precancerous or potentially cancerous areas. If necessary, you can be referred for a biopsy to find out if you have the disease, so you can begin treatment and increase your chances of a full recovery.
Protecting Your Smile
You can take steps to help limit your risk. For example, try to quit using tobacco products. This protects your smile from cancer, periodontitis, and tooth loss. Not to mention stained teeth! You should also drink alcohol moderately, and wear sunscreen when you're going to be exposed to UV light for extended periods. Make sure you're also seeing us for routine checkups and cleanings every six months too! Many of the same actions that limit your risk of the disease also protect you from other serious health issues as well.
If you have any questions about oral cancer screenings, or if you would like to arrange one for yourself or a member of your family, then give our team a call today.
Do You Have Questions About Screening for Disease?
We want to help safeguard your smile and keep it strong and healthy. If you have questions about preventive visits and examinations, then contact our Syosset, NY dental office today at 516-433-2211.