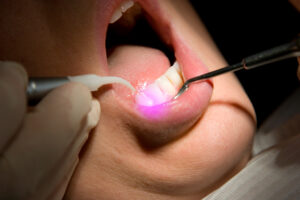 Our team offers a comprehensive array of treatments to help people of all ages, from kids to adults. As part of our treatment approach, we often incorporate advanced technology, providing treatment with precision and comfort. In today's blog, your Syosset, NY, dentist looks at one of these technologies: the dental laser!
Your Checkup and Cleaning
Every six months, we want to see you for a checkup and cleaning visit. The visit involves our team carefully examining your smile for signs of trouble, so we can find out if you need treatment. We also clean the teeth, removing all plaque and tartar to lower your risk of cavities, gum disease, and even bad breath and teeth stains. In this visit, we can identify areas of concern that may benefit from treatment with dental lasers. In fact, we can also use lasers as part of the diagnostic process, pinpointing factors like tooth decay in the earliest stages.
Advanced Cavity Detection
The earlier we can diagnose a cavity, the sooner we can implement treatment to prevent pain in the smile, or the risk of an infection. To obtain the earliest possible diagnosis, our team could employ the DIAGNOdent laser. The device is small and thin, so use is comfortable for the patient. This technology employs a special light spectrum to highlight the earliest stages of demineralization in the tooth visible, so we can assess the risk and administer treatments to help protect the tooth.
Our Soft Tissue Diode
Our team also has a soft tissue diode laser that can perform minor surgical procedures with comfort and precision. The system requires no anesthesia, and its accuracy means no damage to health issues. You avoid bleeding and swelling, and the risk of infection is decreased significantly. Procedures take only one visit, and you can usually return to normal activities after only a day of rest. Our team could employ the technology to recontour the gum line, improving the beauty of the smile in one visit. We can also offer crown lengthening, remove diseased tissues when treating periodontal concerns, and perform soft tissue biopsies if we see signs of oral cancer.
If you have any questions about how we use laser dentistry to diagnose and treat common oral health concerns, then contact our team today to learn more. We want to help you obtain optimal oral health in 2023, and treatment with comfort and precision.
Do You Have Questions About Advanced Dentistry?
We would like to help you enjoy comfortable and effective treatment for your oral health concerns. If you have questions about improving the health and beauty of your smile, then contact our Syosset, NY dental office today at 516-433-2211. We're ready to help you and your family obtain your healthiest and brightest smiles!