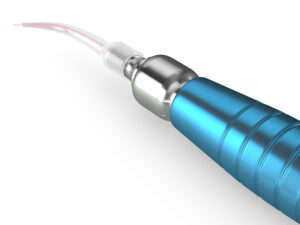 In our last blog, we talked about how we use digital technology to diagnose and treat smiles. In today's blog, your Syosset, NY, dentist wants to talk about a different technology: laser dentistry. With this technology, we can offer care with comfort, precision, accuracy, and without the need for anesthesia!
The DIAGNOdent System
Cavities form when the outer enamel begins to demineralize, eroding away portions so bacteria can reach the inner dentin. This could happen due to poor oral hygiene and serious plaque buildup. To help prevent cavities and discomfort, our team can use the DIAGNOdent system to identify the earliest stages of demineralization, so we can help re-mineralize the tooth to prevent a cavity, or to place a filling before the tooth begins to ache. The system issues a laser diode to inspect the tooth. Creating wavelengths we can compare to the wavelengths of healthy teeth. The technology is simple and comfortable to use, and can protect your smile from painful symptoms and the risk of an infected tooth!
Soft Tissue Laser
Our team can use a special diode laser to perform a variety of soft tissue procedures. This high-powered beam of light is specially calibrated for smiles, and provides precision and accuracy. The system also rarely requires anesthesia, and can start areas of concern without managing healthy tissues either. Recovery time takes as little as one day, and this prevents bleeding, infection, and inflammation since it destroys bacteria. We can employ technology to perform a gum lift, crown lengthening, or a soft tissue biopsy. We can also address cold or canker sores as well, and help treat more advanced cases of gum disease.
The VELscope
VELscope is the technology we use to offer an oral cancer screening with precision and accuracy. The technology employs a special green light spectrum to create a fluorescence that makes cancerous and precancerous areas stand out. We can then order a follow-up visit for a soft tissue biopsy as needed. The process is quick, comfortable, and convenient.
If you have any questions about how we use these unique technologies to examine, diagnose, and treat your smiles, then contact our team today. We would love to see you and your family for a routine checkup and cleaning visit, using these systems to uncover areas of concern and starting you on your journey to a healthier smile, one that looks great and functions properly as well.
Do You Have Questions About Laser Dentistry?
Our team wants to help you maintain your best possible smile using the latest technologies. If you have questions about the advanced tech we use to treat smiles of all ages, then contact our Syosset, NY dental office today at 516-433-2211.