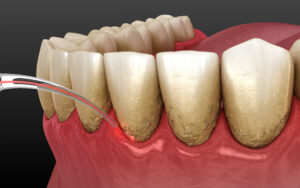 We recently discussed how we use digital technology to provide better and more accurate x-rays. But we can also use advanced technology to diagnose cavities and correct periodontal concerns. In today's blog, your Syosset, NY, dentist talks about how we offer advanced dental care with our dental laser technology.
Diagnosing Cavities
To diagnose cavities in the earliest stages of demineralization, we can employ the DIAGNOdent system. A special diode laser is used to examine the teeth and compare baseline wavelengths of healthy teeth to yours, so we can pinpoint the presence of decay. The tool is small and narrow, so we can examine the teeth and take pictures quickly and comfortably. Once we identify cavities, we can take steps to treat them and prevent them from growing more severe, protecting your smile from tooth sensitivity and toothaches, as well as infection and tooth loss. This helps you preserve and safeguard your smile!
Treating Soft Tissue Concerns
We also have a soft tissue diode laser that helps address periodontal disease and even provide minor soft tissue surgical treatments. The laser rarely requires the use of anesthesia, and provides care with comfort. There is a significantly reduced risk of bleeding and infection, and the healing period is so much shorter than one could expect with scalpels and sutures, which some people return to normal activities after one a day! The technology is quiet, prevents swelling afterward, and offers care with precision and accuracy, while protecting surrounding tissue from damage.
We can use this to treat gum disease by removing diseased tissues. We can also reshape the gum line with gum lifts and contouring, so we address esthetic problems and gingival health at the same time. We can also perform biopsies if we find possible cancerous or precancerous areas, and perform other tasks as well!
See Us Soon!
If you're not sure if your smile needs treatment, then simply schedule a checkup and cleaning with our team. The checkup means a chance to monitor the smile and identify areas of concern in the early stages, treating them before they cause pain and complications. With a cleaning, we remove the plaque and tartar buildup that is often linked to poor periodontal health. If you have any questions about how we diagnose and treat varying oral health issues with advanced laser technology, or if you're ready to schedule a checkup and cleaning visit soon, then contact our team today. We strive to help people of all ages in our community enjoy strong, healthy, and beautiful smiles.
Syosset Dental Offers Laser Technology
We would like to help you enjoy a healthier smile and a comfortable treatment experience. If you have questions about restoring the health of your smile with advanced systems, then contact our Syosset, NY dental office today at 516-433-2211.