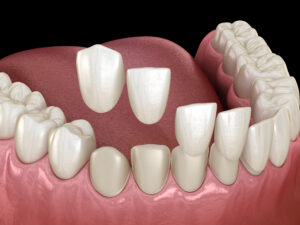 If you have a cavity, we place a filling. If you have teeth stains, we offer teeth whitening. But what if you have several issues with the function, health, and beauty of your smile? We can still offer major improvement with a combination of treatment options. In today's blog, your Syosset, NY, dentist talks about full mouth rehabilitation!
Starting the Process
To begin, we want to get to know you and your smile. We will sit down to talk about your cosmetic concerns and your hopes for your smile. Next, we will use digital x-rays and intraoral camera technology to obtain clear and detailed images of your entire smile, including the parts we can't see with the naked eye, such as the roots and jawbone structure. Using these images, we will make a diagnosis with precision and accuracy, and then formulate a personalized treatment plan to address the uses we've discovered, and return your smile to optimal health, function, and beauty.
General and Cosmetic
Our team can see if you have issues like TMJ disorder and bruxism, and we can craft an oral appliance to restore balance and stop uncomfortable symptoms and dental damage from these disorders. Our team also has a full range of cosmetic treatments. With teeth whitening, we can remove stains while bonding and contouring can repair damage and reshape malformed teeth. With porcelain veneers, we can do all of this at once as we place thin restorations onto the front of your teeth. We could also reshape the gum line with gum contouring, and even discuss clear aligners to correct uneven teeth.
Restorative Dental Care
What if you have tooth decay, infected teeth, or ones with severe damage? Then we could use a lifelike filling for tooth decay, while a custom-made crown or partial crown could address more severe damage or decay. With a root canal, we can halt the spread of infection and protect the stability of your tooth before we cap it using a custom-made dental crown.
Custom Prosthetics
If you have missing teeth, we can help here too! With dental implants, we can secure a replacement for an individual missing tooth, or support a bridge or denture. We can also provide traditional bridges or removable dentures as well. Each will be custom-made to fit comfortably, preserve your bite balance, and offer a lifelike appearance too. If you have any questions about our full mouth rehabilitation, then contact our team today to learn more.
Do You Have Questions About Full Mouth Rehabilitation?
Our team wants to help you smile with confidence and enjoy better oral health. If you have questions about improving multiple issues with your smile, then contact our Syosset, NY dental office today at 516-433-2211.