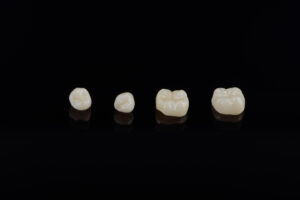 When you have a tooth with severe tooth decay, or one that has been damaged, a restoration may need to be placed. In today's blog, your Syosset, NY, dentist talks about how we create and place a custom-made dental crown. We have lifelike full and partial options to restore your smile to optimal health, function, and beauty.
When Smiles Need a Crown
A crown is a restoration that we can employ to address a variety of cosmetic and restorative concerns. For example, we can employ them to repair minor or severe cracks and chips, or to lengthen teeth worn down by teeth grinding. Placement can address misshapen teeth, mask permanent discoloration, and help improve bite function and chewing ability. We could also use them to address more advanced cases of tooth decay, or to complete a root canal for an infected tooth. We've even used them to address tooth loss, either by securing a dental bridge in place or by restoring a single tooth dental implant.
Full Crowns
The full version covers the entire structure above the gum line, allowing us to address a great variety of serious oral health concerns. To create them, we will numb the tooth and then remove structure from it. We take detailed digital images to create an impression, which we use in a dental lab to design and fabricate the restoration. When your crown is ready, we will check the fit and then make any necessary adjustments before attaching the restoration with a powerful bonding agent. When possible, we also use materials like ceramic or zirconia, which can absorb daily bite forces but also has the ability to be shaded to blend with your smile seamlessly.
Partial Restorations
But what about situations too severe for a filling, but not severe enough to warrant a full crown? In these scenarios, we may help with a partial. We could place an inlay or onlay. The inlay fits in between the cusps on top of the tooth, and the onlay fits over the cusps. Again, we will custom make these from lifelike material when possible, shading them to blend with the tooth seamlessly. Now is a good time to see us, as we can make big changes before the year ends and your 2022 dental insurance benefits expire. If you have any questions about how to repair or restore your smile, then contact our team today to learn more. We want to help transform your smile before 2023 arrives!
Do You Have Questions About Repairing Smiles?
We're ready to help you enjoy optimal oral health and a smile that inspires confidence. If you have questions about repairing teeth and avoiding complications, then contact our Syosset, NY dental office today at 516-433-2211.