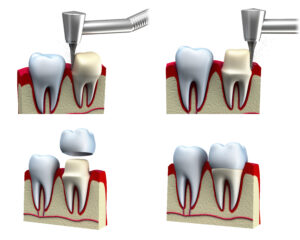 When a tooth needs to be restored, for example, when one is chipped or severely decayed, a dental crown may be placed. We have multiple options, including full crowns, as well as inlays and onlays. Which one is right for you? Your Syosset, NY, dentist will explain in today's blog!
When a Tooth Needs a Dental Restoration
When a tooth has a minor case of tooth decay, then we can likely treat it in one visit with a filling. But when a tooth develops a more severe case, or has damage too substantial to be treated with dental bonding, we may recommend a more substantial restoration. Treatment helps prevent a cavity form development, or a case of tooth decay from becoming an infection or abscess that could threaten a tooth's stability. We will carefully examine the tooth with digital imaging technology to assess the cause and extent of the injury or decay. From there, we will select the best restoration option.
Partial Options
A partial crown is the option between a filling and a full crown, when only a portion of a tooth needs to be restored. The inlay is one that fits in between the cusps on top of the tooth, while the onlay fits over the cusps. Each one is crafted from metals like ceramic, which are strong and able to absorb daily bite forces and pressure. The material can also be shaded to blend with the tooth and provide a lifelike appearance. We craft them based on detailed images we take of your smile, and they will be fixed in place with a powerful bonding agent.
A Full Restoration
A complete crown covers the entire visible portion of a tooth, and is again crafted from materials like ceramic. We first numb the tooth and remove structure from it, then we take detailed images to create a 3D computer impression. We use this to design and craft a custom restoration. When it's ready, we connect to the tooth with a powerful bonding agent. A full crown can be used to address cracked, chipped, or worn-down teeth. Our team could also repair major cases of decay, and restore an infected tooth following a root canal. We also reshape teeth and those with missing teeth, we can secure a dental brigade to restore a dental implant.
If you have any questions about how we use restorative dentistry to improve your smile, then contact our team today.
Do You Have Questions About Restorative Dentistry?
Our team wants to help improve oral health and also the beauty of the teeth. If you have questions about repairing and restoring smiles with custom restorations, then contact our Syosset, NY dental office today at 516-433-2211.