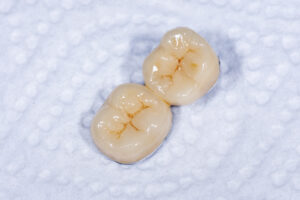 When a tooth is severely damaged, or a cavity or infection develops, then a restoration could not only repair the issue, but preserve the appearance of the smile too. We have both full and partial options, each custom-made for your smile. In today's blog, your Syosset, NY, dentist talks about how crowns repair smiles!
Full and Partial Crowns
We have a few different options. For example, a full crown covers everything above the gum line and could address more severe issues, such as advanced tooth decay, infected teeth, damage from teeth grinding, or cracked, chipped, or broken teeth. We also have partials. These correct issues too severe for a filling, but not advanced enough to require a complete crown. The inlay fits in between the cusps on top of the teeth while the onlay fits over the cusps. We make these from the same materials. We will decide on the option after taking a detailed examination of your smile.
Lifelike Materials
For the front-facing teeth, we may opt for all porcelain. This material is durable, and is translucent like tooth enamel. We shade it to better blend with the smile and ensure a lifelike appearance. The side and rear teeth must endure greater bite forces and need more substantial materials. But we still want them to look good and match your smile. We could use porcelain-fused-to-metal or zirconia, which can also be color-matched to blend with the smile. We want a restoration that protects a tooth, offers relief from discomfort, and improves the overall balance and beauty of the smile too.
The Placement Process
To place one, we begin by administering a local anesthetic to ensure you feel comfortable as we gently remove structure from the teeth. Next, we take detailed images and measurements with digital scanning technology, allowing us to plan and craft the finished product with precision and accuracy. When your restoration is ready, our team will check the fit and make any necessary adjustments. We then attach the crown or partial with a powerful bonding agent. This process helps return your tooth to optimal health, function, and beauty, so you can eat your favorite foods, avoid discomfort, and smile with confidence.
If you have any questions about how we restore smiles, or if you would like to schedule a consultation for yourself or a member of your family, then contact our team today to learn more.
Syosset Dental Provides Custom Restorative Care
Our team is ready to help restore and protect your smile with our dental restorations, so you avoid worsening discomfort or the loss of your tooth. If you have questions about how we offer a custom approach to restorative dentistry, then contact our Syosset, NY dental office today at 516-433-2211.