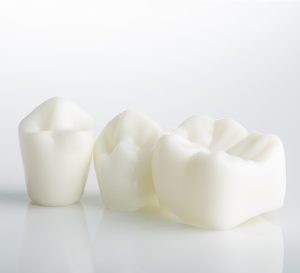 A dental restoration is designed to address compromised tooth structure, repairing everything from damage to decay. In order to offer the most appropriate restoration for your smile, we have lifelike full and partial options. In today's blog, your Syosset, NY, dentist explains how we offer custom restorations designed specificity for your smile.
Full vs. Partial
Dental crowns provide repair for issues too severe to be addressed with a dental filling or a crown. The partial options, known as inlays or onlays, address specific parts of the tooth. The inlay fits in between the cusps on top of the tooth, while the onlay fits over the cusps. The full crown covers the entire outer structure of the tooth, everything above the gum line. Each option is custom-made for your smile, ensuring a comfortable fit that keeps your bite balanced and protects the tooth from decay and infection.
Ensuring a Lifelike Appearance
To begin, we will administer a local numbing agent to ensure you're comfortable as we remove a small amount of outer structure. We then gather detailed images and measurements of the tooth with digital scanning technology. The images will be used in a lab setting to design and craft the finished product. For some, we could use porcelain, or possibly porcelain-fused-to-metal or zirconia. These materials are not only strong and durable but can also be color-matched to blend with the rest of your smile or the surrounding tooth structure. We want you to eat and speak without discomfort, and to also smile with confidence again! When your new crown is ready, we will check the fit and then attach it with a powerful bonding agent, restoring your tooth for years to come.
When a Tooth Needs a Restoration
An inlay or onlay may be used for cases of tooth decay too severe for a filling, but not widespread enough to require a complete restoration. The full option could address cavities, infection, chips and cracks, and worn-down tooth structure. Placement also helps aid in tooth replacement, securing a dental bridge in place or restoring a single tooth dental implant. If you have injured a tooth, or notice persistent aches or sensitivity, then let us know right away. We could offer relief with our full or partial crowns, and ensure you continue to enjoy an attractive smile too. If you have any questions, then give us a call today.
Syosset Dental Offers Custom Restorations
When we place a restoration, we can restore the function, health, and even the beauty of your smile. If you have questions about how our team designs and places a crown custom-made for their smile, then contact our Syosset, NY dental office today at 516-433-2211. We can always help improve your smile's health and appearance!