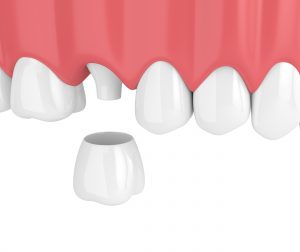 The outer enamel on each tooth prevents the onset of decay or infection, and safeguards teeth against injury. However, if an issue occurs that does compromise the enamel, you need restoration to avoid painful complications. In today's blog, your Syosset, NY, dentist explains how we create and place lifelike full and partial dental crowns, and how they can restore the health of your smile.
Full and Partial Options
What's the difference between these two different types of dental crown? A full crown covers the entire visible portion of your smile, everything above the gum line. The partials, known as inlays and onlays, address specific portions of your smile, for issues too severe for dental fillings but not enough to require a complete crown. An inlay fits in between the cusps on top of the teeth. An onlay fits over the cusps of your teeth. We could use them to treat issues like tooth decay or dental infection, or to repair cracks or chips. Treatment is also used to reshape malformed teeth and address major esthetic issues. A full could be used to replace missing teeth, securing a dental bridge or restoring a dental tooth dental implant.
Creating a Dental Crown
Each one is custom-made for your smile. We begin by removing structure from the tooth and then taking detailed digital images and measurements. We use the information we gather to design and create custom-made ones from a lifelike material, one we can color-match to blend with your smile. Many of these materials, such as ceramic, also contain stain-resistant materials and have the ability to absorb daily bite forces and pressures.
Placement
The process takes two visits. The first is to prepare the teeth and gather digital images. We then design and fabricate them. When you return a week or two later, we will check the fit of your restoration and make any necessary adjustments. We then attach the restoration with a powerful bonding agent. If you have any questions about how we design and craft a custom-made dental restoration, or if you would like to schedule a visit for you or a member of your family, then please contact our team today. The summer is a great time to schedule a visit and undergo treatment!
Do You Want to Learn More About Our Custom Restorations?
Our team knows that sometimes a restoration is necessary to repair damage and prevent oral health complications, which is why the team at Syosset Dental in Syosset, NY offers lifelike dental crowns. Contact our office at (516) 433-2211 to schedule your appointment today. Don't let decay or injury lead to discomfort or further complications, instead talk to our team about a lifelike and durable repair with a custom-made treatment option.