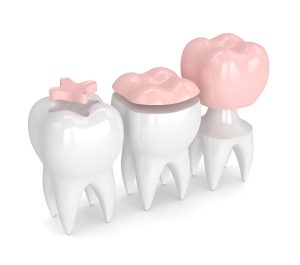 When you have a broken or cracked tooth, or one suffering from an advanced stage of decay or an infection, then a restoration will be necessary to return function and health to your smile. In today's blog, your Syosset, NY, dentist will explain how we create custom full and partial crowns to restore your smile, and the steps we take to ensure a lifelike appearance.
The Difference Between Full and Partial Crowns
A full crown is one that covers the entire visible portion of the tooth, everything above the gum line. A partial addresses specific portions of your tooth. For partials, an inlay fits in between the cusps on top of a tooth, and an onlay fits over the cusps on a tooth. We use them for decay or damage too severe for a filling, but not severe enough to require a full. The complete crown could be used to treat advanced decay or infection, repair cracked or chipped teeth, rebuild worn-down tooth structure, and even aid in tooth replacement by securing a bridge or restoring a single tooth dental implant.
Porcelain and Zirconia
For the front-facing teeth, we often opt for the most lifelike material. Porcelain is translucent like enamel and can be tinted to blend with your smile. The material also contains stain-resistant properties. For the side and rear teeth, which must endure greater bite forces, we could opt for zirconia. A stronger material, zirconia can still be color-matched to blend with the rest of your smile. We want to make sure you obtain a durable restoration, and continue to smile with confidence!
Placing Your New Restorations
To create them, we start by numbing the tooth in question. We then remove outer structure to make room for them, and take detailed digital images and measurements of the prepared tooth. The information we gather allows our team to create a restoration with precision and accuracy. When ready, we place it with a powerful bonding agent, securing your restoration for years to come. Proper care and attention could then preserve your new crowns, and protect natural teeth too. We will discuss better brushing and flossing habits, healthier snack options, and discuss the importance of a checkup and cleaning visit every six months. If you have any questions about our full and partial restorations, then contact our team today to learn more.
Do You Have Questions About Restorative Dentistry?
Our team wants to help preserve the health, function, and beauty of your smile, which is why the team at Syosset Dental in Syosset, NY provides custom crowns. Contact our office at (516) 433-2211 to schedule your appointment today. If you have a damaged tooth, or one that aches, please see us right away for care.