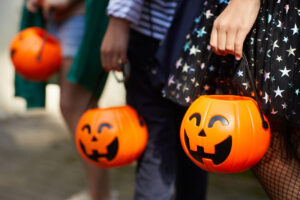 Halloween is a fun time of year! From costumes and parties, to trick or treating with your family, there is a lot to enjoy. But there is also a high risk of cavities if we consume too many sweets. Which is why your Syosset, NY, dentist is talking about how to prevent the onset of cavities while still enjoying your Halloween fun!
Halloween and Tooth Decay
When we consume snacks and candies high in sugar, this leaves particles behind, clinging to the teeth or trapped between them. As bacteria break down and consume these particles, oral acidity rises and the teeth become coated in plaque buildup. Plaque not only causes bad breath and makes teeth stains more apparent, but this also weakens enamel to make cavities more likely to form. Which is why action is needed to safeguard teeth of all ages this time of year, and in the upcoming holiday season as well.
Treatment at Home
First, limit your children to only a few candies a day, preferably right after a meal. Have them drink a glass of water with it too, so they can rinse away the sugar particles. You could also let them choose a few favorite pieces and sell the rest to you for a small amount of money, or allow them to trade it for a toy. Make sure your children are brushing their teeth twice a day with a fluoride toothpaste, and for two minutes each time as well. They also need to floss every evening! These actions remove food particles from their smile. If you're handing out treats this year, you could opt for non-candy options like trail mix, nuts, stickers, temporary tattoos, or party favors like plastic spider rings or skeletons.
Treatment at Our Office
You should also see our team for your last checkup and cleaning of 2022. We will examine the smile and watch for signs of trouble, and administer treatment as needed to fight tooth decay. We also clean the teeth, removing harmful plaque and tartar buildup to keep cavities, gingivitis, and more at bay. A visit now is great because you can use your remaining dental insurance benefits or health savings funds before they expire at the end of December, and before the hectic holiday season makes finding time to see us difficult.
If you have any questions about fighting tooth decay, then contact our team today to learn more. Let's enjoy strong and bright smiles, while still enjoying our Halloween fun!
Do You Have Questions About Our Preventive Treatments?
Our team wants to help you and your children enjoy strong smiles throughout the spooky season. If you have questions about addressing tooth decay, then contact our Syosset, NY dental office today at 516-433-2211.