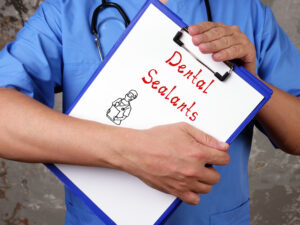 Cavities are common in children's smiles, and could lead to infections and premature tooth loss. This in turn could even cause dental misalignment! Fortunately, we can help treat cavities, and can even help prevent them! In today's blog, your Syosset, NY, dentist talks about using fluoride gel and dental sealants to safeguard little smiles against cavities.
The Causes and Dangers of Tooth Decay
We would first like to talk a little about cavities, and the threats they pose for children's smiles. Cavities can form when harmful oral bacteria make contact with the inner dentin, the sensitive structure usually protected by the enamel. But poor oral hygiene habits could lead to plaque buildup, which weakens and erodes enamel with time. Likewise, an injury to the tooth or persistent teeth grinding could lead to exposed dental enamel too. Once the cavity forms, it will grow and severity and spread, leading to sensitivity when your child eats or speaks, painful toothaches, and eventually, the risk of an infection or even the premature loss of a tooth! Which is why actions to prevent tooth decay is so vital.
Fluoride Treatment
We want to see your child every six months for a checkup visit. During this appointment, we will monitor the smile for signs of trouble, such as cavities, and provide treatment as needed. We also clean the teeth, a process that removes all plaque and tartar from the smile to lower the risk of everything from bad breath and stained teeth to tooth decay and gingivitis. But we also provide a unique preventive treatment during this visit too! With a topical fluoride gel, we can strengthen the outer enamel. This naturally occurring mineral has been shown to strengthen enamel and lower the risk of cavities in little smiles. The application process only takes a minute or two, and provide serious protection for your child's smile.
Dental Sealants
We also have another preventive treatment that could provide up to ten years of prosthetic in some cases! Dental sealants are a thin layer of plastic that we apply to the surfaces of the rear teeth, the molars that are hard for kids to reach when they brush and floss. This prevents food particles from becoming trapped on or between the teeth, so the risk for a cavity lowers significantly. They can stay in place for years, and as they wear away, they cling the longest to the most vulnerable teeth in the smile.
If you have any questions about how we strengthen little smiles against tooth decay, then contact our team today to learn more.
Do You Have Questions About Children's Dentistry?
We would like to help your kids enjoy a smile free of painful tooth decay. If you have questions about helping little smiles stay strong and healthy, then contact our Syosset, NY dental office today at 516-433-2211.