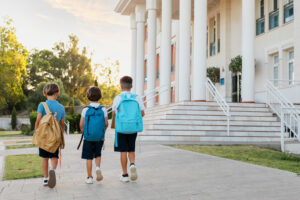 Before you know it, your children will be heading back to school for the fall semester. Which means now is the time to start getting them ready by picking up their supplies and new clothes. But don't forget about their smiles! Your Syosset, NY, dentist discusses why a back-to-school visit is so important for little smiles.
Getting Ready for a New School Year
Once the new school year begins, kids will be very busy, and even after school there will be extracurricular activities. A visit now means your children likely won't need to miss classes or after school activities, risking the chance they fall behind. Instead, we can see them now for a checkup and cleaning, and should we discover any areas of concern, we can provide treatment before they start their first day. For example, a dental filling to treat a cavity only takes one visit to place, and prevents the need for more extensive treatments down the road.
Our Checkups and Cleanings
The dental checkup is an opportunity for our team to carefully analyze and examine the smile with advanced technology, such as digital x-rays and intraoral cameras. We can then identify potential problems in the earliest stages, so we can provide treatment before major discomfort develops. Our team will look for warning signs of cavities, infections, gingivitis, and even the onset of dental misalignment. During the same visit, we can help lower the risk of future cavities and periodontal issues with a dental cleaning. This involves gently removing all harmful plaque and tartar buildup from the teeth, and then isling the smile for a brighter appearance. The procedure also helps fight bad breath and teeth stains too.
Taking Preventive Measures Too
Our team would also like to offer unique preventive treatments to lower the risk of cavities in the future. For example, during each checkup, our team will apply a fluoride gel to the outside of the teeth, which helps strengthen the outer enamel to lower the chances of cavities forming. We also have dental sealants, which are thin plastic coatings we add to the rear teeth, the molars that are hard for kids to reach when they brush and floss. These can stay in place for up to ten years, and help prevent food particles from being trapped on or between the teeth kids can't reach easily when they brush and floss.
If you have any questions about helping your children get ready to head back to school then contact our team today!
Do You Have Questions About Children's Dental Care?
Our team wants to help kids of all ages enjoy better oral health. If you have questions about our approach to children's dentistry, then contact our Syosset, NY dental office today at 516-433-2211.