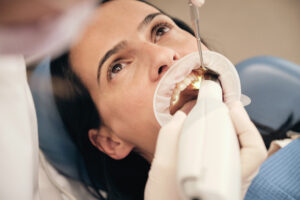 Our team wants to provide the best care we can for our patients and their family. With advanced digital technology, we can offer a diagnosis, implement treatment, and even create custom restorations and appliances. In today's blog, your Syosset, NY, dentist talks about the use of digital technology in our practice!
Digital X-Rays
When we use digital x-rays, this prevents the need for uncomfortable bite wings. Instead, we can quickly and carefully obtain these images with a digital alternative, one that provides images with greater precision and accuracy. In addition, this uses 90% less radiation and doesn't need to be developed in harsh chemicals, making this option better for the environment, and allowing us to provide images chairside, so we can walk you through the diagnostic process.
Digital Photography
Our team also uses digital photography too. This enables our team to show patients before and after images from our cosmetic and restorative treatments, as well as our full mouth rehabilitation. Patients can see what a difference treatment makes!
Intraoral Cameras
To see portions of your mouth that are not visible to the naked eye, we can employ intraoral cameras. Our cameras will gather detailed images and allow us to see them projected on a large monitor. This enables our team to diagnose a variety of oral health issues, such as decay, infection, gingivitis, gum disease, and even TMJ disorder and bruxism (teeth grinding). Our team can also conduct oral cancer screening and the images we take help use plan treatments too. We can easily transfer this information to specialists or other offices as needed.
Digital Impressions
Our team is also proud to offer digital impressions. Instead of relying on physical impressions, which means biting down on a metal mold filled with a gooey material, our team will instead use advanced technology to gather images of the smile from multiple angles, which we can do quickly and comfortably. We then combine them to create 3D computer impressions, one far more accurate and precise than physical ones. You also don't have to endure the process of creating physical ones anymore! We can use these to design and craft dental restorations, such as crowns, or to aid in the creation of dental prosthetics, such as a bridge or dentures. We can also design and craft custom appliances to treat issues like TMD, bruxism, or even sleep apnea.
If you have any questions about our use of our advanced technologies, then contact our team today to learn more.
Do You Have Questions About Dental Technology?
We would like to help provide quality care for our patients and their families. If you have questions about treating poor oral health with the latest dental technology, then contact our Syosset, NY dental office today at 516-433-2211.