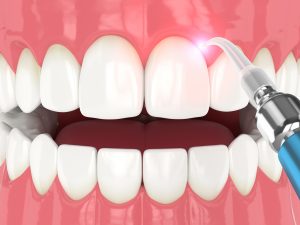 Our team wants to provide care with precision and accuracy, so you avoid the onset of serious oral health issues or major complications. To provide a more accurate diagnosis, we often use digital technology. We also have advanced systems to identify cavities, screen for oral cancer, and treat soft tissue problems, such as gum disease. In today's blog, your Syosset, NY, dentist looks at the advanced technologies we use in our office!
Digital Imaging Technology
Diagnosing your smile means gaining a detailed picture of the current state of your oral health, so we can choose the most appropriate treatment options to correct the issues we uncover. Instead of traditional x-ray systems, we have a digital alternative. They provide detailed images without uncomfortable bite wings, and the images are available right away chairside. No wait for development in harsh chemicals! We also use a small digital camera at the end of a thin wand to gather a series of images of the teeth quickly and comfortably. Known as an intraoral camera, we use these for diagnosis and to also create a 3D computer model of your smile. As a result, we have impressions to create restorations and aligners that don't require you to bite down on a physical mold!
Laser Dentistry
Our team also employs a soft-tissue diode laser to treat a variety of issues with precision and accuracy. Using lasers also means we don't need scalpels or sutures for many procedures too! We could use a laser system to detect cavities in the earliest possible stages. We could also perform a soft tissue biopsy following your oral cancer screening, or address periodontal disease with a crown lengthening or gum lift. Our team could also improve the symmetry and beauty of your smile with lasers, known as a gum contouring procedure.
Oral Cancer Screening with VELscope
You should have an oral cancer screening at least once a year. To offer more thorough results, we use the VELscope system. The technology identifies possible cancerous and precancerous areas with greater accuracy than a simple visual exam. Using a special green-spectrum light, this makes any abnormalities stand out clearly to the dentist. The process only takes about two minutes. If you have any questions about the technologies we use to improve your treatment experience and help you enjoy better oral health, then please contact our team today.
Syosset Dental Provides Care with Precision and Accuracy
We want to help you enjoy a stronger, brighter, and healthier smile. If you have questions about the systems we use to diagnose and treat your oral health issues, then contact our Syosset, NY dental office today at 516-433-2211. With the latest technology, we help you enjoy better oral health.