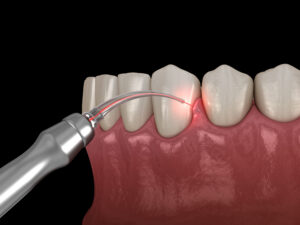 Teeth whitening can remove your discoloration, while bonding and contouring can reshape your teeth. But what if your cosmetic concern is related to your gums? What if an uneven gum line makes your teeth appear small or uneven? In these situations, you may need to see your Syosset, NY, dentist for gum contouring.
The Factors Behind Excessive Gingival Tissues
Complications with the growth and development of your jaw and oral structures could lead to the presence of excessive periodontal tissues, which make the teeth appear small, misshapen or uneven. No amount of teeth whitening or dental bonding can improve the smile, as the issue is with the gums. In addition, swelling could be brought on by the presence of periodontal disease, which we will discuss further on. As part of your treatment, we will carefully examine your smile with advanced digital imaging systems, so we can identify the factors behind your poor gingival health, and create a treatment to address the esthetic concerns you have.
The Contouring Process
For many, this will involve reshaping the gum line to improve balance and symmetry, and to remove excess tissues completely. Instead of using a scalpel and sutures, we will employ advanced dental lasers. We use these lasers, which are specially calibrated for soft tissues, to carefully and gently trim away excessive tissues and reshape the appearance of the gum line. The lasers can do this with unrivaled precision and accuracy, and prevent damage to healthy tissues. There is no need for anesthesia or sutures, and most people return to normal activities after a day of rest. Using this advanced technology also reduces the risk of inflammation, bleeding, and infection. The entire process will only take one visit to complete as well!
Periodontal Disease
What if the appearance of excess tissues is actually related to the presence of periodontal disease? In the early stages, we can begin managing the disease with a deep cleaning, known as a scaling and root planing, followed by traditional cleanings every three to four months. But if the disease has reached a more severe state that could lead to tooth loss, we may use dental lasers to carefully remove disease tissues to allow healthy ones to adhere to the teeth. The issue can then be managed with preventive care to protect your smile moving forward!
If you have any questions about how we improve the esthetics of your smile in one visit, then contact our team today to learn more.
Would You Like to Learn More About Cosmetic Dentistry?
Even if you have esthetic issues related to your periodontal tissues, we can help with advanced technology. If you have questions about how we reshape and transform your smile, then contact our Syosset, NY dental office today at 516-433-2211.