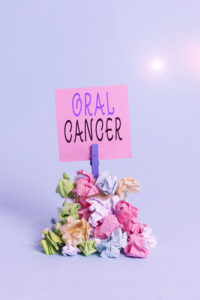 Both the American Cancer Society and The Oral Cancer Foundation recommend you undergo screenings at least once a year, preferably at every checkup appointment. We agree! Which is why in today's blog, your Syosset, NY, dentist takes a look at why these screenings are so essential, and what you can expect from your visit.
The Reason for These Screenings
Oral cancer has a very high mortality rate, with as many as 50% of those diagnosed succumbing to the disease in only five years. The reason for this high rate of mortality? Well, the disease is rarely caught in the early stages, and by the time it is diagnosed, it has had time to grow and spread. But with a screening at least once a year, there is a greater chance to diagnose the problem in the earliest stages, and an increased opportunity of a full recovery. We offer an oral cancer screening as part of our six-month checkup for our patients, so don't put off those exam and cleaning visits!
Common Factors Behind the Disease
While the disease can impact anyone regardless of habits or risk factors, certain risk factors do increase the odds of oral cancer. This includes tobacco use, family history of cancer, heavy alcohol consumption, Excessive UV light exposure, and age (people over the age of 40 are at a high risk).
Symptoms to Watch For
You should be aware of any changes to your smile, such as voice changes, persistent hoarseness, sudden weight loss, or a sore throat that lasts for more than a week. If you experience sores, lesions, and rough patches that don't heal after two weeks, or areas with red and white splotches, this could mean trouble. Let us know so that we can perform a detailed screening, and if necessary, refer you to a specialist for a biopsy and treatment. You should also attend your checkup and cleaning visit at least once every six months, or possibly three to four if you have issues with gum disease.
Diagnosis
To make a diagnosis with accuracy and precision, we use advanced VELscope technology. This system uses a special green-spectrum light to allow abnormalities to stand out. We can then identify possibly cancerous or precancerous areas, and recommend the next steps! If you have any questions about how we diagnose the issue with advanced imaging technology, or about what happens afterward regarding biopsies and treatment, then contact our team today to learn more.
Schedule Your Next Checkup Today
Seeing us every few months helps you maintain good oral health and lowers your risk of certain diseases reaching more advanced stages. If you have questions about our exams and preventive visits, then contact our Syosset, NY dental office today at 516-433-2211.