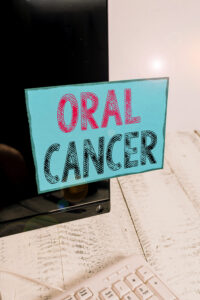 When was the last time you had an oral cancer screening? To help safeguard the health of our patients, we recommend one at least once a year as part of one of your six month checkup and cleaning visits. In today's blog, your Syosset, NY, dentist talks about how we perform a screening with accuracy and precision.
The Warning Signs
Often, the first warning signs of trouble involve sores or discomfort in and around your mouth, including the gums and cheeks. For example, you may have rough patches, lesions, and areas with red and white splotches that won't heal after two weeks. Prolonged sore throat, hoarseness, or changes to your voice could be a warning sign too. If you experience one or more of these warning signs, then let us know right away. Oral cancer has a high mortality rate, with half of those diagnosed succumbing to the disease within five years. Often, this is simply due to the fact that the issue isn't caught until the later stages, but that can change with a routine screening!
VELscope Technology
Our team employs the VELscope system to gather detailed images of your smile, and identify areas of possible cancerous and precancerous tissues. This allows us to make a more accurate diagnosis, and we can then refer you for a biopsy to find out if you have oral cancer, and so you can start treatment right away. We recommend a screening at least once a year, and if you haven't had one in 2022 yet, give us a call! We would love to help you start the year on the path to a healthier and stronger smile.
Your Checkup
Remember, we offer these as part of your checkup visit. People of all ages benefit from a routine checkup and cleaning visit every six months. During this visit, we examine your smile for areas of concern, so we can create a treatment plan to return your smile to optimal health, function, and beauty. We also clean your teeth, a procedure that removes all plaque and tartar buildup from the surfaces of your teeth, allowing you to enjoy a reduced risk of tooth decay and gum disease, as well as a lowered risk of bad breath and teeth stains. If you have any questions about how we protect your smile with these preventive visits, or if you would like to schedule an appointment for yourself or a member of your family, then contact our team today. 
Syosset Dental Offers Oral Cancer Screenings
We would like to help you enjoy good oral health with a quality screening and examination. If you have questions about our preventive treatment options, then contact our Syosset, NY dental office today at 516-433-2211.