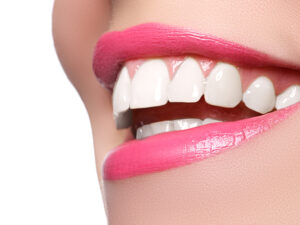 When you have dental discoloration, this could make you feel self-conscious about your appearance. To help improve your confidence, we could either remove stains with teeth whitening, or mask them with bonding or veneers. In today's blog, your Syosset, NY, dentist talks about removing teeth stains.
In-Office Teeth Whitening
If you need results quickly, then our team can schedule a visit for an in-office procedure. With in-office teeth whitening, we will place a protective covering over your lips and gums, and then apply the bleaching gel onto the surfaces of the teeth. Using a special light, we will activate the gel to begin breaking up the stains. The process could brighten teeth by several shades in as little as one visit! 
At-Home Teeth Whitening
We also have an option you can use from the comfort of your own home. This option reduces the risk of tooth sensitivity too! First, you will stop by the office. We will use digital impressions to create a custom set of plastic trays. At home, you will fill these trays with the bleaching gel we provide. The gel then begins to break up discoloration, and the trays prevent uneven results and dilution. You should wear the gel-filled trays for about 30 t0 45 minutes a day. After one to two weeks, you can obtain optimal results, with teeth up to eight shades brighter in some cases!
Dental Bonding
But what if your discoloration doesn't form on the surface, but instead develops in the dentin? Known as intrinsic staining, this could be difficult to remove with our whitening procedures. If this is the case, we could instead discuss masking your stains! In one visit, we could cover them with dental bonding, the composite resin we use in our tooth-colored dental fillings. We could also place a veneer too. These are thin shells of porcelain that mask stain and also address other esthetic issues too. 
Keeping Teeth Bright
To help your new results last, be sure you control plaque buildup with daily brushing and flossing, and visits to our office every six months for a checkup and cleaning appointment. You can also benefit from cutting back on drinks with dark pigments, such as soda, red wine, coffee, and tea. Try to consume foods that are not high in sugar and starch. If you have any questions about how we brighten smiles with professional treatment options, then contact our team today.
Syosset Dental Offers Cosmetic Dentistry
Our team can remove your discoloration and help you obtain a more attractive smile. If you have questions about our cosmetic treatment options, then contact our Syosset, NY dental office today at 516-433-2211.