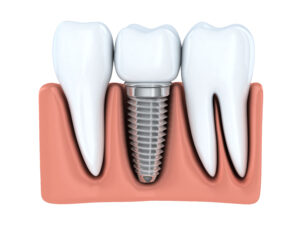 When you have missing teeth, this could lead to serious trouble for your oral health, and your smile's appearance too. To replace them with an option ready to last for years to come, we could place dental implants. In today's blog, your Syosset, NY, dentist talks about the benefits of implant dentistry.
The Dangers of Untreated Tooth Loss
When you lose a missing tooth, or several, this leaves behind gaps in your smile that could make eating difficult or cause complications with speaking clearly. You could also develop misalignment, as surrounding teeth drift from position. Not only that, but the body will respond to your missing tooth by suspending the flow of calcium and phosphorus to the jawbone. Without these nutrients, the bone tissue itself begins to break down, leading to further tooth loss and an aged appearance. To avoid these issues with your oral health and quality of life, you should seek tooth replacement.
The Benefits of Dental Implants
Dental implants are very different from traditional bridges or removable dentures. A biocompatible titanium post is actually surgically inserted into your jaw, acting as a new tooth as it bonds with the jaw through a process known as osseointegration. We then attach an abutment that extends above the gum line, so we can connect the crown that will act as the visible part of your new tooth. If you have multiple missing teeth, then we can attach a fixed bridge or denture to several posts and abutments. These new teeth have the potential to last decades, or even a lifetime, and act as natural teeth.
Placement and Restoration
We plan and guide the process with digital technology, choosing a position and angle that can support a crown or denture, and stimulate the growth of jawbone tissue in the process. Once in place, the area will need to heal before we move forward with the abutment and restoration. The crown or denture will be crafted from lifelike materials and shaded to blend with your smile. We also design them to ensure a balanced bite as well, and to allow you to eat your favorite foods again. If you have any questions about implant dentistry, or if you have missing teeth that need attention, then let us know right away.
A visit now means you could start the process before the year comes to an end, and before you lose your 2021 dental insurance benefits or health savings account funds. We would love to help you enjoy a new year with a complete smile!
Syosset Dental Wants to Replace Your Lost Teeth
Our team wants to address missing teeth with a long-lasting and lifelike replacement option. If you have questions about the dental implant placement process, then contact our Syosset, NY dental office today at 516-433-2211.