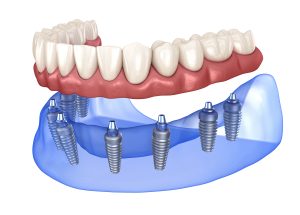 If you have a missing tooth, you may have heard of dental implants. These provide a more successful and longer-lasting solution to tooth loss than traditional bridges or partial dentures. But how do we place them, and what makes them such a great choice for addressing tooth loss? In today's blog, your Syosset, NY, dentist will talk about replacing missing teeth with implant dentistry.
The Impact of Your Lost Teeth
How does losing your natural teeth impact your smile? When you have gaps in your smile, this could cause trouble eating, and even lead to difficulty speaking. The gaps also increase the risk of misalignment, and with it the risk of tooth decay and gum disease. The strain on the jaw joints could cause TMJ disorder and bruxism (teeth grinding). Finally, since the body will suspend the jaw of doses of calcium and phosphorus following tooth loss, this could cause a breakdown in mass and density, which lead to an aged appearance and further tooth loss.
Planning and Placing Your New Posts
We begin by examining your smile with digital technology, which lets us take a close look at your smile. We plan the placement of the implant post to ensure we avoid nerve tissues and sinus cavities. The posts are then inserted into the jawbone, where they bond with the bone tissue like natural roots. This process, known as osseointegration, will give your new roots the potential to last for decades, and to avoid further tooth loss by preventing further changes to the shape of your jaw ridge.
Restoring Your Dental Implant
What about the physical appearance of each new tooth? For a single missing tooth, we could attach an abutment to the post and then secure a dental crown. Custom-made for your smile, the crown will look natural and provide a durable chewing surface. For multiple missing teeth, we could add abutments to the posts and then attach a bridge or denture. The prosthetic is custom-made to ensure a lifelike appearance, and fits comfortably too. Since they're fixed in place, no need to remove them for soaking and cleaning. If you have any questions about how we replace missing teeth, or about the benefits of dental implants, then contact our team today. Our team wants to restore function and beauty to your smile, with a long-lasting and durable tooth replacement option.
Syosset Dental Helps Replace Lost Teeth
Our team is ready to help you tackle your lost teeth and once again smile with confidence. If you have questions about the impact of tooth loss or how we provide a solution, then contact our Syosset, NY dental office today at 516-433-2211. Whether you have one lost tooth, or several, we can help!