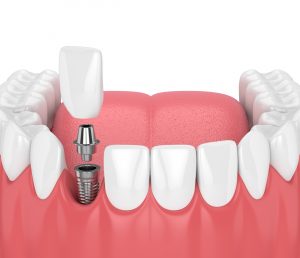 When you have lost a tooth, or several, then a prosthetic could help fill the gap in your smile and prevent major oral health complications. For some, we may suggest dental implants, which offer a number of advantages over traditional prosthetics, such as bridges or removable dentures. In today's blog, your Syosset, NY, dentist will explain how implants could benefit your smile!
The Possible Impacts of Tooth Loss
First, let's talk a little about what tooth loss could do to your smile. Obviously, there is now a gap in your smile that could lead to embarrassment. But tooth loss could also alter how you eat, impact how you speak, and could even cause teeth to drift from position, leading to misalignment. Over time, these factors are a recipe for tooth decay and gum disease, not to mention a higher risk of TMJ disorder and bruxism as the balance of your bite is altered. Finally, the body itself could respond by suspending the flow of calcium and phosphorus to the bone tissue around your missing root. Without these nutrients, the bone tissue loses mass and density, causing further tooth loss and even an aged appearance. To restore not only the beauty of your smile, but the health and function too, you need to seek tooth replacement.
The Difference of an Implant
With a dental implant, we insert a biocompatible titanium post into the jawbone via oral surgery. We plan and guide the process with digital technology to ensure the new root is able to absorb daily bite forces and pressure, and also support a crown or prosthetic. Unlike removable dentures and crown-secured bridges, the implant is able to be accepted as a natural root by your body. The flow of key nutrients to the jawbone resumes, and this prevents further tooth loss or negative changes to your jaw ridge shape and facial structure. As a result, your new tooth could last for decades to come, potentially even a lifetime!
Restoring Your New Tooth
What about the parts we see when you smile? For an individual one, we could attach an abutment and a custom-made crown, which is crafted from strong and lifelike materials. For multiple posts, we could attach a bridge or a fixed denture, so you enjoy a complete smile and never worry about slippage! If you have any questions about the process of replacing the teeth with implant technology, then contact our team today.
Do You Have Questions About Implant Dentistry?
Our team would like to help you enjoy a full smile that offers a lifelike appearance, which is why the team at Syosset Dental in Syosset, NY provides implant dentistry. Contact our office at (516) 433-2211 to schedule your appointment today.