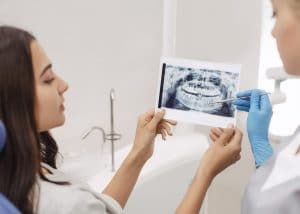 There are many reasons why people lost teeth. Whether from accidental trauma, severe dental disease, or some other reason, the fact that one or more teeth are missing can mean several different things for your smile. The goal of replacing your lost teeth is to rebuild your smile and prevent the consequences of tooth from growing more severe. For many patients, the most effective and biocompatible way to do that is with the help of one or more dental implant posts.
Why they're important to your oral health
Dental implant posts are small and made from biocompatible titanium. When a post is inserted into your jawbone, the bone fuses to its surface, making it almost as secure and steady as a healthy, natural tooth root. On the surface of your dental ridge, your lifelike prosthesis (i.e., dental crown, bridge, or denture) will look and feel more like healthy, natural teeth thanks to the support of the anchored implant posts underneath the gums. However, the benefits of dental implants go far beyond the surface advantages of offering greater bite support.
The many benefits of dental implants
The benefits of receiving dental implants are many, and most of them stem from the fact that they're designed to replace your lost teeth. By doing so, dental implants can not only offer a more realistic support system for your replacement teeth, but also preserve optimal oral health in the future, such as:
Restore stimulation in your jawbone – Stimulated teeth roots every time you bite and chew tell your body that your jawbone needs nutrients. Losing teeth roots means losing some of that stimulation, and as a result, some of your jawbone's allotted nutrient supply.
Prevent your prosthesis from shifting – The loss of jawbone structure following the loss of your teeth roots, coupled with the external apparatus needed for support, can often cause traditional bridges and dentures to shift uncomfortably after a while.
Preserve your youthful appearance – Besides a shifting dental prosthesis, a shrinking jawbone can also have a gradually more visible impact on your facial appearance. Known as facial collapse, it results from the loss of mass and density in your jawbone and surrounding facial structures.
Find out if you qualify for dental implants
Besides the fact that they're implanted for optimal support, there are many different aspects of dental implants that you might not realize are vital to your long-term oral health. For more information, schedule a visit by calling Syosset Dental in Syosset, NY today at 516-433-2211 or 516-921-1678.