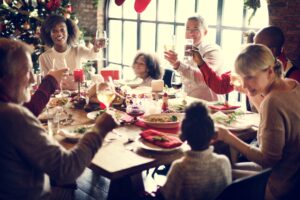 The holiday season is fun for everyone, but this time of year also means access to lots of sugary treats. In order to protect smiles of all ages from the onset of tooth decay, we should all take a few simple preventive actions. In today's blog, your Syosset, NY, dentist talks about maintaining good oral health during the holiday season.
Enjoying Healthier Meals
From now through the rest of the year, during your celebrations try to include healthy options on your plate too. In addition to your sugar and starch-rich favorite choices, try to add fresh fruits and veggies. Many of these, like carrots and broccoli, help scrub away plaque as you consume them. Try to drink plenty of water too, as this helps cleanse away sugar and starch from your smile.
Understanding the Risks of Sugar and Starch
When you eat foods and drinks high in sugar and starch, this leaves particles behind on the surfaces of your smile. Harmful oral bacteria will then break down these particles, a process that causes a rise in oral acidity and coats the teeth in plaque and tartar. Over time, this buildup is linked to a greater risk of both tooth decay and gingivitis, as well as infection, gum disease, and even teeth stains and bad breath. Which is why moderation during your holiday celebrations is so important!
Better Homecare
To help protect your smile, you should also practice good oral hygiene. For example, be sure you start and end each day by brushing your teeth for at least two minutes each session. Using a toothbrush with soft bristles and a toothpaste that contains fluoride, as this helps protect and strengthen outer enamel. You also need to floss every evening too, as this removes what is beyond the reach of your toothbrush. Even if you're heading out of town to visit family, you should still take time to properly care for your oral health.
Use Your Benefits
If you have dental insurance, then you have benefits that will expire unless used by the end of December. Instead of letting the benefits you paid for expire unused, why not use them to improve your oral health before 2021 ends? Call our team today to schedule a visit for a checkup and cleaning. If we discover oral health issues, we can often address these in one or two visits. Which means you can start 2022 with a much healthier and brighter smile!
Syosset Dental Is Ready to See You!
We want to help you enjoy a healthier and stronger smile with care at home and in our office. If you have questions about maintaining good oral hygiene, then contact our Syosset, NY dental office today at 516-433-2211.