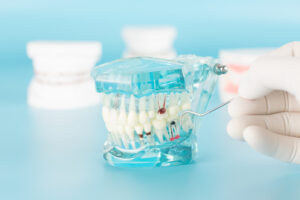 When a tooth develops a serious infection, then treatment could be what prevents the loss of your tooth or the spread of infection. To safeguard smiles, we may recommend an endodontic treatment known as root canal therapy. In today's blog, your Syosset, NY, dentist talks about our comfortable root canal procedure, and how this procedure could save your tooth!
The Factors Behind a Dental Infection
When a cavity isn't treated, or a tooth sustains a serious injury, this could expose the inner pulp to harmful oral bacteria. The pulp is what oversees the flow of blood and nutrients to and from your tooth, so the presence of an infection could eventually kill the tooth, allowing infection to spread to other parts of the smile. Warning signs include toothaches, sensitive teeth, pain when you bite down or chew, fever, headaches, jaw pain, and swelling near the tooth. If one or more of these symptoms develop, then contact our team right away!
How a Root Canal Brings Relief
Using digital x-rays and intraoral camera technology, we will examine your smile and assess the cause and extent of your infection. From there, we will move forward with treatment. After we administer a local anesthetic and dental sedation, our team will open the tooth to reach and remove the infected tissues from within. The interior of the tooth will be cleaned and a restorative material will be added. The last step involves capping the tooth with a dental crown. The restoration will be designed to look natural and blend with your tooth, and will also be able to withstand daily bite forces and pressure. In as little as one visit, we will be able to stop your infection with a root canal and bring relief.
Tips for Safeguarding Smiles
You can also take action to help avoid the onset of an infected tooth. At home, be sure you limit your consumption of sugary foods and drinks, and also take time to brush twice a day for two minutes and to floss every evening. You should also see our team every six months for a checkup and cleaning, so we watch for the earliest warning signs and address concerns before they cause discomfort. Now is a good time to schedule such a visit, as you can use your remaining dental benefits and also see us before the hectic holiday season makes your schedule too busy. If you have any questions, then contact our team to learn more!
Syosset Dental Offers Endodontic Treatment Options
We would like to help you enjoy a healthy and whole smile, avoiding the complications of an untreated oral health issue. If you have questions about how we treat an infected or abscessed tooth, then contact our Syosset, NY dental office today at 516-433-2211.