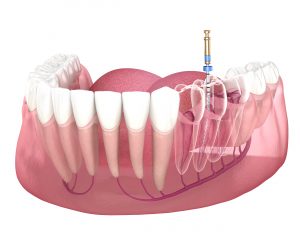 When a tooth develops an infection, whether due to injury or untreated tooth decay, this could mean serious trouble for your smile. To avoid complications like worsening pain or tooth loss, you may need a restorative treatment known as root canal therapy. In today's blog, your Syosset, NY, dentist talks about how we save a tooth with endodontics.
The Dangers of a Dental Infection
An infected tooth means that harmful oral bacteria has made contact with the inner pulp, the collection of living tissues that keeps the tooth healthy and functional. This could happen due to injury that cracks or chips a tooth, or as a result of an untreated cavity that has grown and spread through the tooth structure. Unless treated, the infection could lead to pain when biting down or chewing, toothaches and sensitivity, swelling near the tooth, or even a discharge from it. The tooth itself could become lost or require extraction to prevent the spread of infection to other parts of your smile!
The Root Canal Procedure
If we examine your smile and find the presence of infection, then we will recommend an endodontic treatment to repair your smile. The process begins with the administration of a local numbing agent, as well as sedation. Even patients with dental anxiety then enjoy a calm and comfortable experience. We next open the tooth to access and remove the infected tissues. We clean the interior and fill the tooth with a special restorative material, before capping the tooth with a lifelike dental crown. The procedure then halts the spread of infection and brings relief. You leave with a healthy and attractive smile!
Protecting Your Whole Smile
While we have treatments that treat infection, we strive to prevent these issues from developing in the first place with a preventive approach to dental care. We want to see you every six months, so our checkups let us identify the earliest stages of cavities. A cleaning in the same visit means we can remove harmful plaque and tartar, major factors in the onset of a decayed or infected tooth. You also help with better homecare habits, such as brushing and flossing, and a healthier diet low in sugar and starch.
If you have any questions about how we diagnose and treat infected teeth, or about our restorative treatment options, then contact our team today. We're ready to help tackle these concerns and bring relief to your smile!
Syosset Dental Offers Relief With Endodontics
Our team wants to help you enjoy optimal oral health with restorative dental care, including root canal therapy. If you have questions about how we save smiles with our restorative treatments, contact our Syosset, NY dental office today at 516-433-2211.