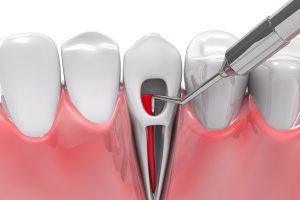 When a tooth becomes infected, then a filling may not be enough to repair the tooth and preserve your smile. Instead, you may need an endodontic treatment, such as root canal therapy. In today's blog, your Syosset, NY, dentist will explain the benefits of root canal therapy and how this procedure could prevent tooth loss.
The Dangers of Infection
At the center of your tooth is a collection of living tissues known simply as the pulp. This nerve center helps keep your tooth healthy and functional, overseeing the flow of blood and nutrients to and from the tooth. An infection means that the pulp has been exposed to bacteria, leading to painful aches and sensitivity, discomfort when you eat, swelling, or even a discharge from it. Unless treated, the infection could mean the tooth essentially dies and that the infection could then spread to other teeth. The tooth may fall out, or even require extraction to prevent the spread. Which means we need to treat the tooth to preserve your smile!
Ensuring Your Comfort
First, many people find the procedure comparable to placing a dental filling. We always start by administering a numbing agent, and may recommend sedation for our more anxious patients. These steps ensure you remain calm and comfortable throughout the entire process.
The Root Canal Procedure
Next, we need to open the tooth in order to access and remove the infected tissues. After we clean the interior of the tooth, we add gutta percha, a special restorative material. The final step involves capping the tooth with a dental crown. The crown will be custom-made based on detailed digital images gathered of your smile, ensuring it doesn't upset your bite balance, and that it blends with your smile seamlessly, being color-matched to surrounding teeth. You then avoid further discomfort or the risk of tooth loss, and can once again smile with confidence and eat without discomfort.
Better Care
An infection, like a cavity, can be avoided with routine preventive care both at home and in our office. At home, we suggest brushing and flossing daily as the dentist recommends, which removes food particles and helps prevent major plaque buildup and decay. You also help by consuming fewer sugary and starchy food andirons, which otherwise feed harmful bacteria. At our office, we want to see you for a checkup every six months, so we can watch for warning signs of trouble and also remove all plaque and tartar to protect the outer enamel.
Do You Have Questions About Treating Infection?
Our team doesn't want an infected tooth to become a lost one, which is why the team at Syosset Dental in Syosset, NY provides endodontic treatments like root canal therapy. Contact our office at (516) 433-2211 to schedule your appointment today.