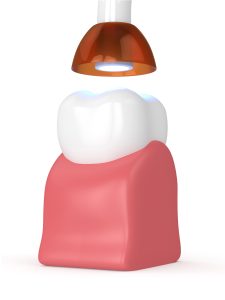 A filling allows our team to treat a case of tooth decay in only one visit. In addition, we employ a material that blends with the tooth, and is safe for people of all ages. In today's blog, Your Syosset, NY, dentist talks about how we treat cavities with a composite resin filling, and what you should expect from placement.
The Causes of a Cavity
Each of our teeth are coated in enamel, a very powerful layer that protects the sensitive inner tissues from exposure to harmful bacteria. However, poor oral hygiene habits that promote plaque buildup, or an injury to the tooth could weaken or compromise this enamel. As a result, bacteria reach the inner dentin and form a cavity. Over time, the cavity will grow and spread, threatening an infection unless treated. When you experience tooth sensitivity to hot or cold foods and drinks, or if you have a persistent toothache, then let us know right away!
Placing a Filling that Looks Natural
We will begin with an exam using intraoral digital cameras and digital x-rays. After we discover and assess the cavity, we will move forward with the placement of a dental filling. First, we administer a local anesthetic to ensure you feel calm and comfortable. Next, we prepare and place the material we will use. Instead of metal, we have a composite resin that is safe for all ages. The material can be shaded to blend with the tooth seamlessly. As the composite resin is cured under a light, the dentist will sculpt and mold your tooth for a more lifelike appearance. The last step involves polishing the tooth, which brightens it. In one visit, we will treat your tooth decay and bring relief!
Taking Preventive Actions
To lower your risk of developing tooth decay, then our team may recommend you brush your teeth twice a day for at least two minutes, and always using a fluoride toothpaste. You also need to floss every evening too. This benefits kids and adults alike, and helps control plaque buildup. Cutting back on sugary foods and drinks is helpful too, as is seeing us for a checkup and cleaning every six months. If you schedule a visit now, you can get ahead of the busy holiday season, and also use any remaining dental insurance benefits or health savings funds before they expire at the end of December.
If you have any questions about treating tooth decay, then contact our team today to learn more.
Syosset Dental Offers Repair for Your Smile
Our team wants to help return smiles suffering from decay to a healthier and more comfortable state. If you have questions about how our solutions for a cavity, then contact our Syosset, NY dental office today at 516-433-2211.